Cursive Handwriting Practice with Large Letters
I made this small set of cursive handwriting practice sheets with a word processor and the font SchoolScriptDashed. If you would like to make cursive handwriting lessons using the font, go to this article Homemade Cursive Handwriting Lessons and read my suggestions.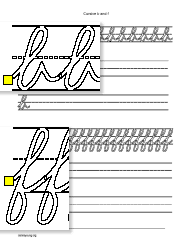 The cursive handwriting practice lessons might be suitable for beginners because the letters are large. There are no guiding arrows, only a starting-dot on the letters. You must show your child how to write the letters that are in each lesson. Alternatively, your child may watch the cursive animations. Just a note here to say that the letters in the animations could be slightly different than the letters in the lesson.
Either way, I strongly suggest that you watch how your child draws the letters during, a least, the early part of the lesson to make sure he/she is drawing the letters correctly. Your child teaching himself how to wrongly draw a letter is hard to undo once he is set upon his way.
Capital I: I left the starting-dot off of capital I because there are two ways to start I. How you teach your child to start I is up to you.
The Lessons: On each worksheet there are two letters. There are a couple of ways to use the worksheets.
You can teach both letters and finish one worksheet a day.
You can teach one letter and use 1/2 of a worksheet each day, then use the other half half when you want to teach the next letter.
Each lesson contains 6 ruled lines. Each letter has 3 lines. The first line is tracing and the next two lines are blank. The student is to trace the letters on the first line then practice writing the letter on the next two blank lines. The lower case letters are joined. The upper case letters stand alone. There are two extra printables, a blank ruled printable and a warm-up printable with several basic letters.
Assorted Letters and Blank Paper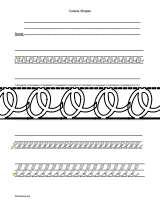 Assorted letters is sort of a warm-up type of lesson.
Scroll down for blank paper with slanted guide lines.
Uppercase Letter Practice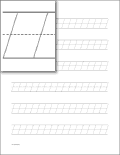 Blank Paper with Slants
A blank handwriting paper with slanted guide lines is available. The lines slant at around 73°.
About Big Cursive
If you would like to make cursive lessons for your children using your word processor and a font, go to
Tips > Make Handwriting Lessons to read instructions.
---
See Also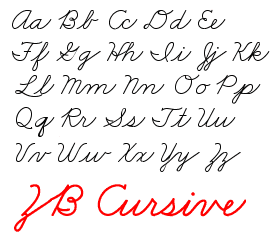 ZB Cursive
ZB Cursive is a new set as of 2011. Currently it is a small set with 52 lessons. The handwriting style used in the ZB Sets resemble Zaner-Bloser.