Preposition Bingo Game
Help your children remember the prepositions by playing preposition bingo. My children played this game and one other game during the time that we studied prepositions.
Game play is pretty much like ordinary bingo; in the case of preposition bingo, you will call the word from the included word card printable that you have printed, cut out, and placed in a container. An optional challenge for this game (for the win) is to have the child who wins to correctly make up a sentence for each preposition in the winning row.
On this page, there are two game styles, a fancy game and a plain, possibly disposable game, which were generated rather than hand edited.
Fancy Preposition Bingo Game
Directions: Print cards and prepositions. Optional: Print on card-stock. Each card file makes two cards, so cut those out. The preposition file has 53 prepositions, the words are listed on the right. Print one file and cut out the small cards. Play as you would regular bingo except look over entire card for the word.
Cards 1 & 2

Cards 3 & 4

Cards 5 & 6

Cards 7 & 8

Cards 9 & 10

Cards 11 & 12

Cards 13 & 14

Cards 15 & 16
Blank Cards
The Words to Print
Prepositions (words)
Do you need an ordinary text file of the words? If so ...


Preposition List, A Text File The is just a text file; the word cards for the game are linked above
Optional: To make the words easier to handle, cover them with clear contact paper before cutting them out.
This is the image that I made to create the bingo cards. Click on the image to get the full sized version. If you know how to use an image editing program, you may save the image to your computer. You may edit the image to use for personal use, for instance, to make more bingo cards for your children.
The image is set to: 2-color, black and white GIF. If you need to use more colors than black and white, increase the color properties in your image editing program for this file.
Generated: Plain Preposition Bingo Cards - Three Sets
Plain Preposition Bingo Set One - 72 Cards
This set has 6 bingo cards per file ( and sheet of paper )
Keep in mind that the problems were randomly generated, so there might be duplicate problems on each card. Because of the possibility of duplicate problems, keep the cards face down when the students choose a bingo card.
Each card is a little over 3 x 3.5 inches (8 cm by 9.3 cm)
Plain Preposition Bingo Set Two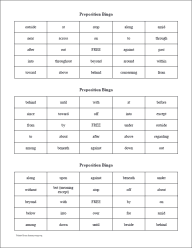 The file contains 51 preposition bingo cards on 17 pages. Use the same Preposition words file that is linked above. Each card is small and can be considered disposable or not. Each page of the file prints 3 cards. After printing cut across the paper between the cards.
51 Preposition Cards

51 Preposition Cards A DOC version [same content as file above, this is merely another format]
Prepositions this is the same set of words as those above

Prepositions An XLS version of the words [same content as file above, this is merely another format]
Plain Preposition Bingo Set Three

Probably the shortest bingo game in history, the squares are a mere 3 by 3 and the middle is a free spot. The words used in set three are the same prepositions from Easy Grammar: Grades 3 and 4.
Each file has 12 game cards.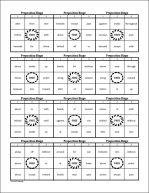 Preposition Bingo Set Three - 1

Preposition Bingo Set Three - 2

Preposition Bingo Set Three - 3

Preposition Bingo Set Three - 4

Preposition Bingo Set Three - 5
And the necessary calling cards

Preposition Bingo Set Three Cards
Easy Grammar, a Curriculum with a Preposition Approach
Easy Grammar uses the prepositional approach. Children learn to recognize and mark out prepositional phrases from sentences, making sentence analysis easier.
Book links go to CBD, an online bookstore that I frequently used for homeschool books
Easy Grammar Grade 3
526 pages
Workbook: 230 pages
Easy Grammar Grade 4
585 pages
Workbook: 252 pages