ZB Style - Cursive Words
Each printable worksheets on this page contains two handwriting lessons. Each lesson will have seven ruled lines for practice. At the beginning of each line is a word and, on a few of the lessons, the word is listed twice. The word is written in a hollow font that the student should trace. After that, the student should write the word as many times as possible on the line and as neatly as possible.
The Style of Letter used in These Lessons
The image below shows exactly what these letters look like. If you would like a full sheet printable of the image shown below so that your students can trace the letters, then print this file.
ZB Cursive - Five Practice Strips

Set One - Ordinary Words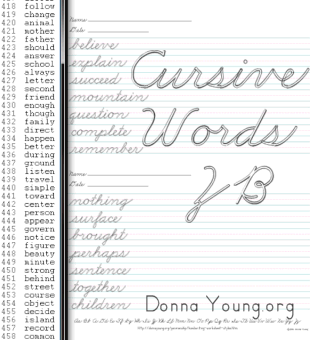 Points about the Files and Lessons
Each file is available in both color and gray scale.
The rule height is approximately 9mm or just under 3/8ths of an inch
This set is available to subscribers
Life members have access to two special files which contains all of the lessons in either gray scale or color.
Blank Lesson Paper
ZB Cursive Lesson Paper - Color
ZB Cursive Lesson Paper - Gray Scale
Set One, The Printable Files

The List of Words Text File
May 11, 2015
Donna Young
Set Two, Slightly Advanced Cursive Words
These lessons have the same specs as the lessons above except for one thing-
Each lesson contains 6 words and one free line
Either tell your student what to write in the free line or allow the student to decide what to write
This set of printable cursive word practice contains slightly advanced words. If your student does not know the meaning of the words or how to use the words, I suggest that the student can look up the words in a dictionary or a thesaurus. If you want to add more to the lesson, well, that is up to you. I am providing the list of words that are in the lessons.

Words used in Set Two
May 14, 2015
Donna Young