Calendar Templates
A little more than just squares on paper, the printable blank calendars may be used for teaching, organizing, and creative purposes.
Blank Calendar Descriptions and Links to the Pages
The Blank Calendar which is Dated but without Numbers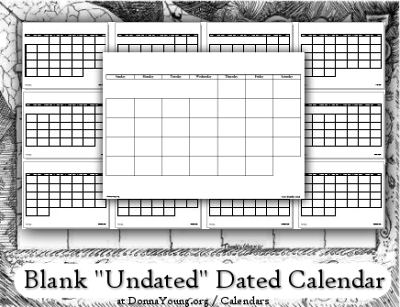 Donna's Blank "Undated" Dated Calendar
A Landscape Calendar
A useful teaching calendar and an art project wrapped up in 12 monthly pages. While the numbers are missing from the months, this calendar is most certainly dated. Each month contains the exact number of date cells in the exact location. This is a PDF file.
Undated Blank Calendar Templates - PDF & DOCAvailability Noted Below
Below: Page Descriptions and Links to Pages
The calendars listed below are truly blank; there are no indicators as to where to place certain dates. For your convenience, I am proving the information that you might need when you add dates to your printed blank calendar. Basic calendar information is located on the various blank calendar pages at either the sidebar or the bottom of the page. I've also created a stand-alone page that provides additional information such as holiday dates and next year's calendar data. That page is at Data for Blank Calendars.
This page contains several choices of blank monthly block calendars that are lined or unlined and print the month on 2 sheets of paper. Read more and print the files at 2-Page Month.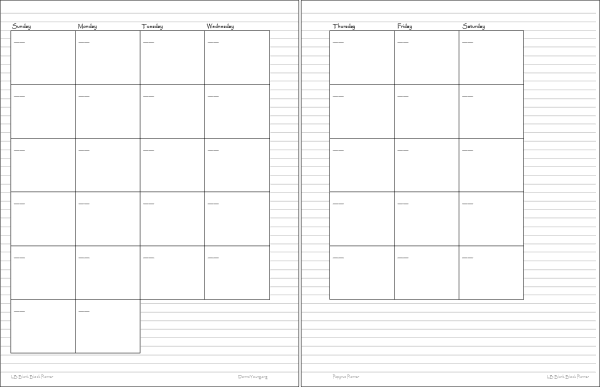 How I Used Blank Calendars to Teach my Children
I used blank calendars to teach my children how calendars work, how many days each month has, the days of week, and so forth. I always used the blank-top calendar. My children drew a picture at the top of each monthly calendar that they made. The picture that they drew was related to the month in some way. For instance, a winter month might have a snow scene and the summer months might feature outdoor activities such as a picnic. Read more at Teaching Days and Months and Teaching How Many Days for Each of the Months.
Related to Blank Calendars

Teaching Days and Months
Suggestions about how to teach a child the days of the week and the concept of today, yesterday, and tomorrow.
Teaching How Many Days for Each of the Months
Help your child remember how many days are in each month.
Do You Need a Large Dated Calendar?
If YES, then be sure to visit Big Cal, Donna's Printable large calendar.