Event Calendars
Event calendars use one or two sheets of paper. They can be used for recording the dates of field trips, concerts, appointments, goals, etc.. The files print in two different orientations: landscape or portrait. The landscape calendars have a small block for each day and they have generic dates. The portrait calendars have a space for each month.
All Purpose Event Calendars - Starts with January
The all purpose event calendars are available in either portrait or landscape formats and in each of those formats the calendar is available as a one-page event calendar or a two page event calendar. One other thing about the all purpose event calendars is that you may type in a title and a year before printing. The files are pdf.
Prints Portrait (Vertical)
All Purpose- Begins with January

One-Page Calendar


Two-Page Calendar
Prints Landscape (Horizontal)
All Purpose- Begins with January

One-Page Calendar


Two-Page Calendar
Event Planners for the Homeschool Planner
I always included the Mid-Year 2-Page Landscape event calendar in my homeschool planner. I usually printed the first page of the event calendar behind the school calendar. The second page of the event calendar was printed on a clean sheet of paper. Sometimes I would print nothing behind the second page and sometimes I would print a journal file.
Mid-Year 2-Page Landscape
I used this style in my homeschool planner for appointments and outside activities.
Each day has a small space. In my earlier days of homeschooling, I used this calendar first to map out the school year. Later I used my dated calendars because it is easier to use a dated calendar for "school year mapping". Related dated calendar Vertical Months

The margins are close to the edge on this one, see Possible Printing Problem below.
PDF Files: Open and Print
June - May
July - June
August - May [old one]
August - July
Possible Printing Problem
The landscape event calendar is made very close to the edge of the paper. That might cause problems with some printers. If tiny margins typically get cut off in your printer, select the "fit to page" box before printing. Some browsers have the setting in their print function, however; you might not see this option unless you download the file and print it from your hard drive with adobe acrobat reader.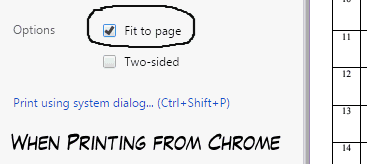 Monthly Events or Goals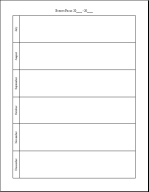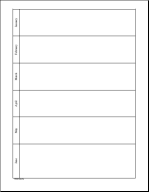 This one is very different because the months are blocked off; there are no divisions of day. So basically, each month has a space to record events or goals.

PDF Files: Open and Print
June - May
July - June
August - July
See Also

A Fragmentary Account
A Fragmentary Account is a 12 page dated calendar/diary/journal that is ruled and each line begins with a date. On the line you should write something in short about the day.