Calendar Sets – Portrait
This set of blank calendars includes both PDF and DOC files. All of the calendars in this set print in portrait orientation.
The Portrait Calendar Set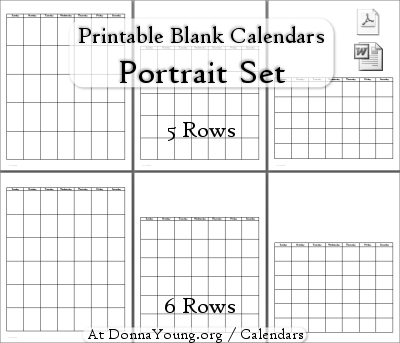 The Portrait Calendar Set Files

Portrait Calendar Set PDF
Ready to Print, just open, choose which pages to print. Pages 1, 2, and 3 each have 5 rows. Pages 4, 5, and 6 each have 6 rows.
YoungMinds

Portrait Calendar Set DOC
Download to your computer and edit the file before printing
About The Blank Calendar Portrait Set that is Linked Above
There are six blank calendar layouts in each file
The calendars print in portrait orientation [print vertically]
Layout- Two calendars have a large blank space at the top for drawings or images
Layout-Two calendars have a smaller blank space at the top
Layout- Two calendars use the full page with no drawing/image space
There are two calendars in each of the three layouts mentioned above, one group has 5 rows and the other group has 6 rows. Most of the months can use the calendar with 5 rows.
Blank Calendars – Portrait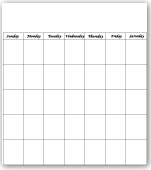 With Words


Blank Calendar


Trace the Days
Without Words


Blank Calendar.
This calendar has space at the top for writing the month and optionally, a small drawing. It is available with or without the days. It can be used for educational purposes and for other purposes such as making a monthly lunch menu
Related

Teaching Days and Months
Suggestions about how to teach a child the days of the week and the concept of today, yesterday, and tomorrow.
Teaching How Many Days for Each of the Months
Help your child remember how many days are in each month.