Today it's a Kindergarten Diploma
Today, April 2, 2009, I worked on one kindergarten diploma. I made it into a typeable pdf so that it would (or should) look nice. The one I am posting today has been remade 5 times and test printed as many times. I also tested the font - if it embedded or not. I believe it did based on the font still appearing on the pdf file after I uninstalled the font. Aside from individual computer quirks, this file should work for most of you.You may print this file for your children and for your local homeschool co-op kindergarten graduates as well.
You will notice a faded image behind the text. It is the desk and lion from the engraving, Saint Jerome in His Study, by Albrecht Durer. I did not make a file without the background image.
How to Use the File
Click on the link and it should open in your pdf reader. Depending on how new your reader is, the places that you fill in might be highlighted as shown in the image. The file might tell you that you can't save it, that you must print it. If you need to save it for your non-internet usage on your hard-drive, then right-click the file and save it. Do not redistribute, email, or upload the file. Below is an image of the fields and example of what goes in the fields.
The Diploma File

S.J. Kindergarten Diploma [691 KB]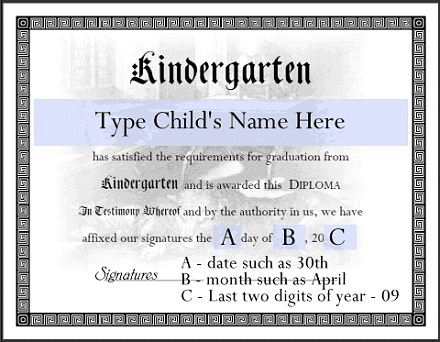 Instructions*
Open the file, type in the fields, print.
If you are printing more than one, test print on plain paper first to make sure that you like the appearance of the diploma.
Hello Visitor!
I am currently working on this website to add to its ginormousness. Thank you for visiting, and please subscribe yearly to access my many printable files! Donna Young
May 13, 2021