Black Magic Cake
Recipe Submitted by Donna ..|.. Index | Cake
This is a very moist, very dark chocolate cake. It is Hershey's most requested cake recipe. It is also a favorite cake of a few people that I know. I serve Black Magic Cake un-frosted with whipped cream, vanilla ice cream, raspberry sauce, and chocolate syrup.
Preheat your oven to 350 degrees Fahrenheit
Ingredients
2 cups sugar
1-3/4 cups all-purpose flour*
3/4 cup Hershey's Cocoa
2 teaspoons baking soda
1 teaspoon baking powder
1 teaspoon salt
2 eggs
1 cup buttermilk (or substitute with soured milk**)
1 cup strong black coffee (or 2-teaspoons powdered instant in 1-cup boiling water)
1/2 cup mild olive oil (or any mild tasting oil)
1 teaspoon vanilla extract
Directions
Preheat your oven to 350 degrees Fahrenheit. Grease and flour two 9-inch round baking pans or one 13x9x2-inch baking pan. In your electric mixer bowl, stir together sugar, flour, cocoa, baking soda, baking powder and salt. Add eggs, buttermilk, coffee, oil and vanilla; beat on medium speed for 2 minutes. Batter WILL be thin. Pour batter into prepared pans.
Bake 30 - 35 minutes for round pans, 35 - 40 minutes for rectangular pan. Cool 10 minutes; remove from pans to wire racks. Cool completely. Frost as desired.
*If using self-rising flour, omit salt and baking powder, but do add the baking soda as it reacts with the buttermilk.
**To sour milk: Use one tablespoon white vinegar plus milk to equal one cup.
Strong coffee: In a small saucepan, add 1 1/4 cups water and 2 Tablespoons ground coffee. Bring to a boil and boil for one minute. Turn off heat under pan and cover the pan. Let steep for 5 minutes. Strain the coffee through the finest strainer that you have and add 1 cup coffee to the cake batter. Throw out the grounds or add them to a compost pile.
Black Magic Cake Wrinkle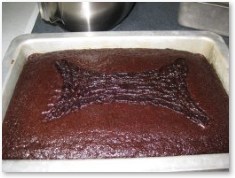 The black magic cake batter is very runny and that might have something to do with the wrinkled top that it always gets. I always bake Black Magic Cake in a 9x13 inch pan and the cake always forms this hour-glass shaped wrinkle. It could be nick-named the black widow cake. The wrinkle doesn't affect the cake; I just thought I'd show you a picture of it.
I do not frost this cake. Instead, I set out toppings for the cake slices. The toppings, when I add them, are layered in this order - a slab of vanilla ice cream, raspberry sauce, whipped cream, and chocolate syrup.
Recipe Links - or see All Links
Toppings, Syrups, and Sweet Sauces