Fantasy Fudge
Recipe Submitted by Donna ..|.. Index | Candy
A classic fudge from the Kraft Marshmallow Creme label. This is a family favorite.
Ingredients
3 cups sugar
3/4 cup butter
2/3 cup (5 ounces) evaporated milk
1 12-ounce bag semi-sweet chocolate pieces
1 7-ounce jar marshmallow creme
1 cup chopped nuts
1 teaspoon vanilla extract
Directions
Grease a 13 x 9 inch pan with a little butter. The "Classic" directions call for a 9 x 9 inch pan; you can use either size; the difference is the resulting thickness of the finished piece of fudge - the smaller pan will yield thicker pieces. Optional - Line the bottom with aluminum foil, rub butter on the foil too..
Combine sugar, butter, and milk in a heavy 3 quart saucepan. Bring to a full rolling boil over med-high heat --- stirring constantly, reduce heat to medium and continue boiling and stirring for 5 minutes. To be more accurate, use a candy thermometer and heat to 234 degrees F.; however, do not boil longer than 7 minutes, see note below.
Remove from heat, add chocolate pieces, stir until blended. Add marshmallow creme, nuts and vanilla, stir until well blended. Pour into the prepared pan, spread evenly.
Cool at room temperature (this takes a while). Cut into squares. Makes 3 pounds.
Decorating the fudge, optional- After spreading the fudge in the 13 x 9 inch pan, place a canned cherry half or a pecan half over each (as yet uncut) square.
Note: I want to make two points:
1. If you boil the sugar/butter/milk mixture for too long, the resulting fudge will become too dry. Do Not boil the mixture longer than 7 minutes over medium heat.
2. The candy thermometer temperature might not reach 234 degrees F. in under 7 minutes. 225 is high enough if the boiling time is has passed the 7 minute mark.
3x5 Recipe Card - Makes 4 "Cards"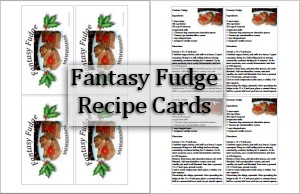 One year I gave the fudge as gifts and made recipe cards. I'll link the card here if you want to try this.
Fantasy Fudge Recipe Card
The card includes a picture cover. Print on card stock, double sided. If your printer will not print double-side (duplex) then print page one, reload paper and print page two. If you only want the recipe, then print page two only on card stock.
OR a Single 4x6 Card - Doc
Place a 4x6 index card in the proper printer tray to print this card.

DOC - Fantasy Fudge Recipe Card


DOCX - Fantasy Fudge Recipe Card