Blank-Top Notebook Paper
What to do with Blank Top Paper
A lot more than what I am about to suggest. Typically, children can draw on the blank top and write something about the drawing on the lines. Top of my head examples follow:


Draw a picture of something, such as a dog, and write something about the dog.


Draw a picture of your house or your room and write something about your house or room.


Draw a picture of yourself or family members and write something about the person that you drew.


Draw a picture of an item such as a shoe and describe it.
From the Complete Standard Set
This set of filler paper features ruled sides as well as ruled bottom paper. The ruled sides can be back to back if the "Right side" is printed on the back of the "Left side." The files below are from the. The Complete Standard Set includes a fully ruled version of each rule size and you can print it from Notebook Filler Paper or below at the links named "Matching Full Rule - "
Wide Rule
Medium Rule
Matching Full Rule - Medium
Narrow Rule
Matching Full Rule - Narrow
---
No Margin Lines This paper has no margin lines, instead it has blank margin spaces.
The image on the left shows what the files look like.
The files below: Choose a size and print. The size stated is a close approximation of the rule size (height).
Hello Visitor!
I am currently working on this website to add to its ginormousness. Thank you for visiting, and please subscribe yearly to access my many printable files! Donna Young
May 13, 2021
More Filler Paper at DonnaYoung.org
I have a few other blank top notebook filler type files located at other parts of donnayoung.org.
In Art
The files are in Story Paper.
Story Paper
In Science
The Nature Journal has a couple of blank-tops and blank-bottoms.
Nature Journal
In Homeschool Planner
The homeschool planner section contains mostly forms but there is at least one blank top in the notebooking forms.
Homeschool Notebooking Forms
In Calendars
The blank tops in calendars are not filler they are calendar templates. The student can use them in the same creative way he uses the other blanks tops... draw a picture in the top that relates to the content in the lower half, which in this case, is a month.
Printable Undated Calendars
Make Your Own Blank Top Paper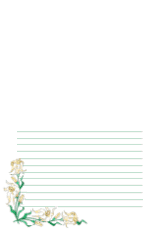 Make blank tops suited for your purpose at hand. Make them with your preferred software such as a drawing program, a word processor, or spreadsheet software.