Filler Paper, Landscape
The filler paper that is available here has continuous ruled lines across the page. The printed filler can be used whole or folded or cut. This paper can be used to make booklets. An example of using this type of paper is at Make a Word Book.
Black and White
The image of is of file 0.3
[note: ruled lines of 0.4 are spaced around 3/8 of an inch]
Listed by Rule Size:
Smallest to Largest

Roughly 1/2 inch Margins
| 0.2 | 0.25 | 0.3 | 0.35 | 0.4 | 0.45 |

Larger Top and Bottom Margin
0.2 | 0.25 | 0.3 | 0.35 | 0.45 | 0.5 | 0.55 | 0.6 | 0.65 | 0.7 | 0.75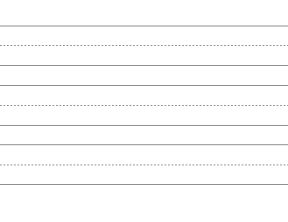 0.75-dashed
For more horizontal handwriting paper see Handwriting Paper
Hello Visitor!
I am currently working on this website to add to its ginormousness. Thank you for visiting, and please subscribe yearly to access my many printable files! Donna Young
May 13, 2021
Color Files Blue and Pink Horizontal Filler [pictured in image] This filler has two pink margin lines.

Plain Blue and White This paper is used in the Make a Word Book
See Also
Setting: Auto Rotate and Center
All Files on This Page
Printer Page Handling Setting:
None or Fit to page.
Be sure that Auto Rotate and Center is checked.