1/2-Sized Booklets
Half-sized and quarter-sized booklets are useful for numerous educational applications. There are three examples of using half-sized booklets at donnayoung.org and they are the Half-Sized Nature Journal, the Make a Word Book, and George Washington's Rules of Civility Booklet.
I have made files that you may print to make 1/2-sized booklets for your children and students. The files are designed to print on full sized printer paper. The files can then be folded and stapled or sewn, or cut and hole-punched.
Descriptions of Booklets
Both have several rule sizes; both have blank top files; and both have one-side ruled, one side blank.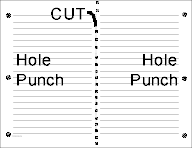 This one is different from my other 1/2 sized booklet files. Notice where the hole punches go- on the outer edges of the paper instead of along the cut line.
Outer Edges is an odd name for this group of files. They are named that because the pages, after printing, must be cut and the cut edges become the outside edges of the pages. I made them this way so that the outside margins of the finished pages could be one-quarter of an inch.

The folded booklets can be stacked, folded, and stapled. They can also be cut and hole-punched.
Hello Visitor!
I am currently working on this website to add to its ginormousness. Thank you for visiting, and please subscribe yearly to access my many printable files! Donna Young
May 13, 2021
Quarter-Sized Booklets
Quarter sized booklets are ideal for little bits of work. We used them for both educational and motivational purposes.
A Motivational booklet
I used the sticker books to encourage my children. They could choose a sticker for positive reinforcement under certain circumstances.
Read more and see instructions at How to Make a Sticker Book
An Educational booklet
A Booklet for Drawing Animals - Animals of the World is a printable 1/4 sized booklet that has 4 pages for each continent. For each continent, the student should list a few animals on the continent's list page, and at some point, draw at least 3 of the animals.
Related