Tracing Shapes
The handwriting readiness lessons on this page are for children who need to practice writing the basic shapes of the printed letter. My daughter did these lessons in kindergarten.
Each file labeled Week # contains 4 printable worksheets.
A suggested 5 week schedule is included below.
The files labeled "Fun" contain one printable worksheet each.
An award certificate may be printed.
A suggested schedule is below.
Donna Young
Page & Files Updated October 1, 2014
Suggested Schedule and Anchor Links
Mon-Thur
The Printing Readiness Worksheets
Week One

Week Two

Week Three

Week Three - Handwriting rule is added starting this week.
Week Four

Week Five

Blank Lines - 2 with Shapes
Award

Award


Certificate of Completion
Doc: Add child's name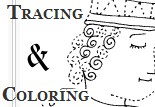 Printing Readiness 2 has 23 printable drawings. Parts of the drawings may be traced to further aid the student with pencil control.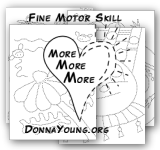 Simple Drawings to Trace
Temporarily this page will include Donna Young's Mona Lisa Tracing Printable File