The Reports
V Planner 4.2, High School V Planner V4.2, and Homeschool Lesson Planner V4 are ready for use. Download from the Member's area.

To define what Reports are -
Worksheets that exist to receive data (for the most part) from other worksheets and display it in a printable format. The other reports are: COS, Transcripts, RC1, PR-S, Today, 7-Day.
I will link help files to Reports below as I make them.
V Planner V3 - Today Worksheet - Visit this worksheet to access hyperlinks to all of the useful worksheets and to see what's in store for today.
V Planner V3 - Lesson Planners - One page to describe the lesson planners.
Jump to: AU Planner or C# Planner
V Planner V3 - 7-Day A printable planner that fetches your 7-day schedule.
Course of Study - COS Worksheet How to use the printable course of study report.
The Report Card - RC1 The Report Card in V3 and how to use it.
Donna Young
Updated
About the V-Planner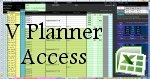 The V Planner is a spreadsheet file in xls and xlsx format. To use the file, you must have Microsoft Excel on your computer. The V Planner is available from YoungMinds web site. YoungMinds is online via a subscription and on Donna Young's Site-CD.