The V Planner
V Planner News - V Planner 4 is now available. - Download it from the Member's area.


The V Planner is a spreadsheet file and, to use it, you must have on your computer a program that is compatible with XLS or XLSX files. As far as I know, Microsoft Excel is the only software program that is fully compatible with V Planner files.
April 28, 2013 9:30 pm EST: V3 is ready for use. If you find an error or have feedback regarding V3, please use the contact form or my email.
V Planner V3 helps you manage your lesson plans. It also calculates grades and keeps grade records. Additionally with V3, running records of activities and awards may be kept.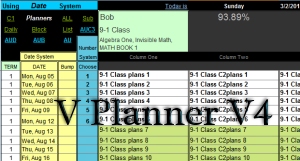 Changes in V3
--- Miscellaneous ---
-Today shows you a truncated list of today's lesson plans
-Records for two outside classes may be added to show on reports
-RC1 replaces all report cards
-Awards records
-Extracurricular activities records
Changes in V3, continued from left
--- S-Sheets ---
-A 10th S-Sheet
-S-sheets 7-10 are "Split"
-Split S-sheets can function as usual or can support up to two different semester classes
-3 Columns for Plans instead of 2 .. Note: 2nd & 3rd column cannot be separately bumped or numbered
-Each S-sheet has an extra place for semester grades and a final grade that can count a percentage against the totals or, optionally, count as 100% of the grades for that particular s-sheet.
Lesson Planners ---
-Fewer lesson planners because planners can be used for either system
-No Daily Planner
-No Teacher Planner; however that can easily be made
-Extra controls on all of the planners
-For Date System, you can choose with calendar to use- the regular calendar or a new one that has more current dates on top.
-A subject planner based on PR-S
-The AU planner, a planner that might need some explaining


-EACH subject may fetch lesson plans based on either system <- this might be a time saver.
V Planner V2.51 DT
Lesson Planner and Grade Records
This V Planner helps you manage your lesson plans. It also calculates grades and keeps grade records for reports and a 1-year transcript.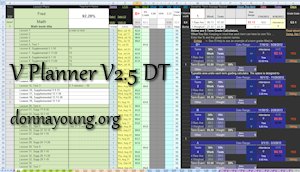 Lesson Planner V2.5
Lesson Planner, no Grade Records
This V Planner, "Lesson Planner" helps you manage your lessons plans. It does not keep grade records.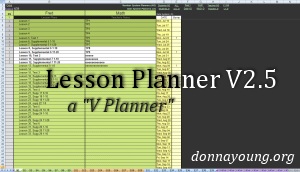 V Planner 44 -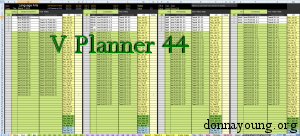 Supports Shared Subjects
This planner is subject based versus student based. The file includes a grading system.
High School V Planner -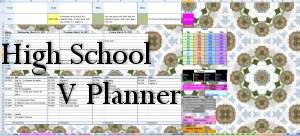 A 4-Year Planner
The High School V Planner includes record keeping worksheets that are typically needed for high school records.
Manage School Dates and Attendance - School dates as in the school calendar and the school term breaks. V Planner requires that you set these dates. It is best to set up the dates for the entire school year and because V Planner is a file, any changes to the dates that need to be made later, can be made.
Manage Your Lesson Plans - Once you've added lesson plans to the subject sheets, called "S" Sheets, then you can use either one of the two systems to send lesson plans to planners. From the planners, you can either view the lesson plans or print them. Planners are provided that display daily and weekly plans.
Number System - This system allows you to place any date and any lesson plan on the number system planners - regardless of order. It is not automated like the Date System, but it has the advantage of complete control. I would guess that while the Number System will not be used every week, it will come in handy when you need to schedule a lesson plan out of order. **Class sequence for the Number System is managed with the numbers in column A of the S-Sheets.
Date System - This system allows you to select a school date at the planners ("-D" planners) and the lesson plans, if any, will fill in. Any date from the drop-down list can be selected and if there are lesson plans for those dates, past, present, or future, they will fill in. **Class sequence for the Date System is managed with Bump.
Manage How Grades are Calculated - Each school term for each subject can have its own weights, up to four, for grade calculation. Additionally, each school term has two optional places for special grade instances such as a term test or a challenging project. These two optional places are weighed against the term average and should be used only for very important work.
Points - Giving & Taking - A column is provided that allows you to add or take away "points." Additionally, you can assign the value of the points for each S-Sheet.
Grade-Scales - I've included three grade-scale tables at the worksheet called GS-QP (grade scale, quality points). Two of the tables are filled in and the third is blank for your input. Each S-Sheet has a drop-down list at Column U to allow you to choose which grade scale to use.
High School Credit - If enabled at the Data sheet, a place will be available for high school credit on each S-Sheet. GPA will be reported based on the chosen grade scale and grade average for each subject.
Print Records - As you know a spreadsheet takes information in such as way that the information can be compiled into a report. The lesson planners are such Reports. Other worksheets that are reports are two Course of Study worksheets, several report cards, a one-year transcript, a report of each S-Sheet, and the 7-Day sheet, which is a report of your personal calendar items for seven days.
Gizmos - Every type of report does not exist for printing, some reports exist to provide us with information. That is where the gizmos come in. Three gizmos are: Dynamic Term Average Record, Term Averager, and Term Date Calculators. The Today sheet is an automated gizmo. It greets you and tells gives you information from the personal calendar and other sheets and if you put your birthday in the Data sheet, it will greet you appropriately. Lastly, I included my Term Dates Calculator in the V Planner to assist you in setting up the Term Dates
Error Messages - I've included several error messages that are triggered by various data input issues surrounding the Term Grade Calculators. Errors are not hair raising, but one does want to get the calculators set up correctly so that grade averages will be accurate.
With the invention of automated Term and Date columns for V2.5, it is getting harder to mess up the calculators. Most of the errors in V2.5 deal with percentages being off or pending data. V2, with its non-automated Term and Date columns, will check to see if you've set up Term dates for the calculators.
---
Legalese that content creators should include with their work.
Terms of Agreement
V Planner, as it is now [2011], has taken more than 220 hours to create, so I really hope that you find it useful but I also hope that you do not take advantage of me by giving out the file. The planner is only available to current YoungMinds CD-ROM customers at this time, which means the V Planner is brand new and it was not available prior to the 2011 CD. If you have purchased YoungMinds CD-ROM and have the V Planner - I know it's a nice file, but please do not give out or send the file to others or upload it anywhere.
Disclaimer
The file is "as is." It is also a work in progress. I make no warranties whatsoever regarding the file, it's quality, it's accuracy [although I do try very hard in those two areas ], and I cannot guarantee that you can open and use the file. The V Planner is part of the large file collection that is on YoungMinds CD-ROM 2011 & 2012. The V Planner is an XLS or XLSX file and requires that you have a compatible spreadsheet program on your computer in order to open and use the file. I do not provide the spreadsheet software.
Availability of V Planner
V Planner is a one of the few premium items at donnayoung.org. It is currently only available to customers of YoungMinds 2010, 2011, and 2012. YoungMinds is the site-CD and is only shipped in the USA.
Subscription
Should I offer a subscription version of donnayoung.org, which would be available to USA and other countries, and I am looking into it, the V Planner will be included.
---
**

What is a Class Sequence?
What I am referring to when I say "class sequence" is the number or days or days of the week that a class is held.
Examples:
1-day a week - Any one day
2-days a week - Any two days - Tuesdays and Thursdays might be common
3-days a week - Can be any three days
4- days a week - Any four days
Every other day - Every other day - M, W, F, Tu, Th would be the sequence for a 5-day school week.
Donna Young
March 2012