7-Day
V Planner 4.2, High School V Planner V4.2, and Homeschool Lesson Planner V4 are ready for use. Download from the Member's area.

7-Day is a worksheet that can display seven consecutive days of your dated schedule from the Calendar worksheet and a few items from the Random worksheet. As of V Planner V3, 7-Day will also check to see who is scheduled for classes. 7-Day is an optional worksheet and if you do not want to use it, you may be hide it, or moved to the end of the workbook, or delete from the workbook.
7-Day is a worksheet that fetches or analyzes information from these worksheets:
To use 7-Day, simply select the date from the drop-down list in cell B3 or type the date. The date that you select will be the starting date and the next 6 days will automatically fill in. If there are any items listed at the Calendar worksheet for the dates selected, then the items will automatically display on the worksheet.
A few rows are open at the bottom for typing if you choose to add more to the week.
7-Day is formatted for printing, but please check print preview before printing.
Donna Young
Updated
About the V-Planner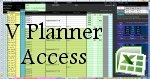 The V Planner is a spreadsheet file in xls and xlsx format. To use the file, you must have Microsoft Excel on your computer. The V Planner is available from YoungMinds web site. YoungMinds is online via a subscription and on Donna Young's Site-CD.