Biscuits
Recipe by Donna ..|.. Index | Bread
I make these with self-rising flour and unsalted butter.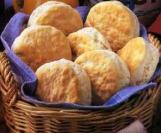 Ingredients
2 cups self-rising flour
4 tablespoons cold butter
3/4 cold milk
Directions
Cut the butter into the flour until the flour resembles cornmeal. Add milk. Stir until all milk is absorbed. Dump out on a floured surface and knead dough 4-6 times. Flatten the dough to around 1/2 inch thickness. Cut with a biscuit cutter or cut into squares.
Bake at 425 degrees F for around 10-12 minutes or until golden brown.
Recipe Links - or see All Links
Toppings, Syrups, and Sweet Sauces