Leek Soup with Bacon and Potatoes
Recipe Submitted by Donna ..|.. Index | Soup / Salad / Side
Ingredients
4 slices of bacon ( I usually cut it into 1-inch pieces with scissors )
6 leeks, thinly sliced
1/4 cup flour
4 cups water
3 chicken-flavored bouillon cubes
2 potatoes, peeled and cubed
1 teaspoon dried whole basil ( I usually crushed the basil )
1 cup half & half or milk
Directions
Cook bacon in a 4 quart sauce pan over medium heat for 5 minutes. Add leeks and cook for another 5 minutes. Reduce heat to medium-low. Add flour and stir until smooth. Stir and cook the flour mixture for a minute. Add water while stirring. Increase heat to medium and cook until thickened - a few minutes, be sure to stir. Add bouillon cubes, potatoes, and basil. Adjust heat so that soup simmers while covered. Cover and simmer for 45 minutes. Stir in half & half. Heat through; serve.
Makes around 7 cups.
Recipe from The Southern Living Cookbook
Leeks
Growing Leeks
Leeks usually have grit in between the leaves near the bulb. Be sure to cut off the root, trim the tops of the leaves, leaving some green, at least the green that is not too fiber-y. Rinse thoroughly. When chopping the leeks, be watchful for grit and if you see it, rinse the leeks again.
Leeks have grit because they are blanched while they grow. Blanching blocks the sun from the lower parts of the leeks and that is why they are white. To blanch leeks, dirt is piled around the plants during the time that they are growing. The grit in the leaves is the from the dirt that is piled around the leeks. I grow leeks in my backyard and I use a mixture of dirt and compost to blanch them. They are much easier to clean than the commercially grown leeks which seen to have sandy dirt in them.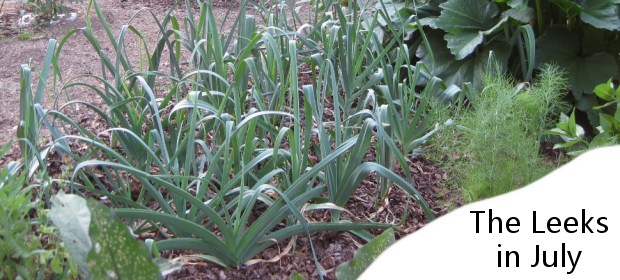 Recipe Links - or see All Links
Toppings, Syrups, and Sweet Sauces