You've Found the Famous Triangle Flash Cards!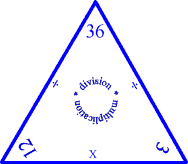 The print-outs below are triangle flash cards. They are available in Adobe Acrobat format. For durability, print the cards on card-stock. Covering the cards with clear contact paper before cutting them out is not necessary but the contact paper makes them easier to handle. These same cards are also available in black and white.
These cards are smaller than commercial cards. They measure about 4 inches along each of the sides. There are 9 flash cards on each of the print-outs with the exception of the 3x3=9 card, which has only 6 flash cards.
No math fact is repeated, so in order to get all the math facts from either the addition/subtraction group or the multiplication/division group, you'll need to print all the cards.
The addition and subtraction cards cover the facts from 0+1=1 to 9+9=18 and the multiplication and division cards cover the facts from 1x1 to 12x12. Use the blank cards if you want to make custom cards.
To use the cards, hide one of the corner numbers with your thumb or finger and let the child tell you what the hidden number is.
Addition and Subtraction
Multiplication and Division