ZB Cursive Handwriting Lessons
The handwriting lessons on this page use letters that are similar to Zaner-Bloser.
ZB Cursive, Basic Handwriting Lessons
Each worksheet has two lessons. In the first lesson a particular letter is practiced. In the second lesson the letter is practiced with other letters, and these combined letters do not necessarily spell any words. The rule is in color. The rule height is not quite 9mm or just over 5/16ths of an inch.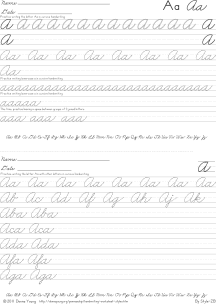 Aa | Bb | Cc | Dd | Ee | Ff | Gg | Hh | Ii | Jj | Kk | Ll | Mm | Nn | Oo | Pp | Qq | Rr | Ss | Tt | Uu | Vv | Ww | Xx | Yy | Zz
Blank Lesson Paper
ZB Cursive Lesson Paper - Color
ZB Cursive Lesson Paper - Gray Scale
Traceable Handwriting Strips- Trace all of the Letters
If you would like a full sheet printable of the image shown below so that your students can trace the letters, then print this file.

ZB Cursive - Five Practice Strips

Related