Marble Homeschool Planner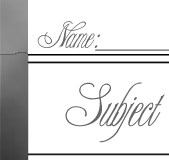 The marble homeschool planner has a gray marble-looking border around the edge of each planner and each planner has the same type-face. The image to the left shows the type-face and a portion of the border.
I made the marble planner many years ago and it is only available as it is here as PDF's. There are no word doc's, rtf's or odt's for this lovely planner. I made this planner in a drawing program, which is why there are no editable versions.
This is one of the few planner sets with a matching "scope" form. Scope can be for your planning purposes or it can be a daily checklist.
Hello Visitor!
I am currently working on this website to add to its ginormousness. Thank you for visiting, and please subscribe yearly to access my many printable files! Donna Young
May 13, 2021