Donna Young's Word Files
The zipped files on this page contain some of my word documents, at last count 42 documents. If you want to see what is in the packages, click on the image of the kitty and you will see a screen shot of the files plus a few images of planners that I added there for the screen shot.


(The images aren't included)
ZIP Format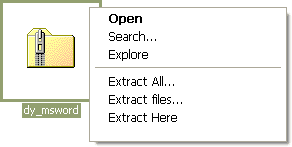 The downloads are in ZIP format. They are compressed files that you will extract after downloading.
To extract the files, right-click on the file. A menu will appear. Look at the choices and see if any items offer a means of "extracting" the file. The image on the left shows the "Extract" choices in Windows XP.
Choose either Extract Here or Extract files.
The zip files on this page are zipped in a folder, so Extract Here is a preferred choice. Extract files will double folder the files.
The Word Files
Choose the packages based upon which format you can that your software can open. If you are not sure which format to choose, I will include a sample file of each format below.
NOTE: The packages are identical except for the format.
Formats: DOC and RTF
Files in Package
Some of the files can be individually downloaded from other pages at donnayoung.org, they are linked in the list.
obj7_12
obj13_18
obj19_24
obj25_30
obj31_36
obkextives
plan_list_5 Weekly Lesson Planners
quarter
readlog
ruled
ruled_2c
ruled_2c_even
ruled_3c
sci_form
semester
timesh1
triplog
unit_planner
video
weeklog Weekly Lesson Planners
weeklogul
Hello Visitor!
I am currently working on this website to add to its ginormousness. Thank you for visiting, and please subscribe yearly to access my many printable files! Donna Young
May 13, 2021