Chore Maker MasterLists
You can do a lot in the MasterLists. What is the MasterLists? MasterLists is where you type chore-doer names, chores, places where chores are done, days, completed boxes, questions, and encouraging words. I have included lists in Master Lists, so all you really have to do is look through them and decide whether or not you want to keep, revise, or add to my lists.
The Doers of Chore
First of all, add the names of your chore doers. You can add up to 8 people. The place to add names is under everything else so scroll down and then change Person 1, Person 2, and so on to your people's names. Leave the top space blank, in fact, it won't let you type in the top space and don't worry if it informs you of that, just move down one cell and add your names.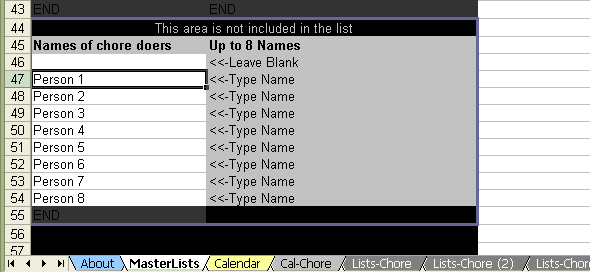 Broken Lists
It can happen! The lists can break. Here is how to check the health of your lists. In the upper left hand corner of excel just above the cells and rows is the Name Box. Usually it has things in it like B2 or Z5. Well, there is more to the name box than that! Click on the little arrow that is just to the right of the name box. See all of those words in the box? Words like Category, Chore, Day -- those are the names of your lists. Click on one to see what happens. See image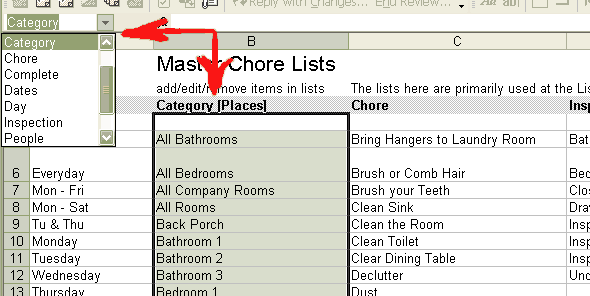 When you click on a name, it shows you the current location of the list. It is a "range of cells." Ideally this range of cells will encompass all of your nifty words that you placed in that particular list. If it doesn't here is how to fix it.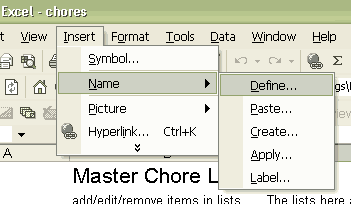 Unprotect the sheet
Go to Insert > Name > Define [see image]
Choose the broken list
Look at the cell reference letters and numbers.
Press the cell picker icon that is to the right of the cell reference letters and numbers. [There is a picture of this in the file on the MasterLists sheet].
Choose the range of cells that are supposed to be in that list, plus one blank cell at the top.
Press enter and close the box so that it "sticks"
Repeat for any other broken lists.
Protect the sheet when you are finished.
Other than mentioning the dated photo of me on that page, this is about it. BTW, photo is from 2004 or 5, I think. I guess I could say something about the Inspections. My children became silly-excited when I announced inspections. It was funny for me, so I included inspections on the chore charts in this file. And the questions -- We all want our children to learn to ask the right questions about something, to think critically or analytically, so I've provided what, 3 questions; you should add more. The quotes are there to inspire your children to do a good job. What's the point of doing something poorly anyway? Add your favorite inspirational quotes.
The Files
two formats - XLS and ODS1
1The ODS format opens with OpenOffice Calc. The formatting will not be very pretty on some of the sheets because I am not well versed in OOCalc. OpenOffice is an open source office suite and it is free. OpenOffice.org
[Read-Only] means that the file is being viewed from your temporary folder. Use "Save as" and save the file if you want to use it.
Usage
Copyright 2010 Donna Young, All Rights Reserved
This file may be downloaded only from Donna Young's web site or YoungMinds CD-Rom 2011.1 & newer.
Do not email, upload, or otherwise "send" this file; send your friends to Donna's Website.
This page is at
https://donnayoung.org/household/fullsize/xls-chore-chart-maker.htm
Donna Young, August 13, 2010