Chore Maker Calendar
It's a huge calendar is it not? It is 387 days days long. I made it long so you would have some room between years if that makes any sense. I'm sure it does. If you have already visited MasterLists and placed all of your doers of chore in the list, then you should see their names across the top of the calendar columns. Each doer gets one column. You know? Don't put Billy's chores in Beth's column.

What Good is the Calendar?!
The chores that are entered into the calendar are sent to one of the chore charts. After reading this page, go to the next help page- Cal-Chore and you will learn where the chores go.
Set Your Beginning Date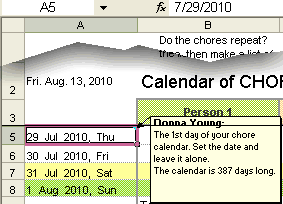 But first you need to set the beginning date. That date should be sometime around now or it can be on a Sunday if you like having every sort of calendar starting on Sunday. To set the calendar, look at the image. See the cell A5? That is the cell where you will enter your beginning date. I even put a little message in the box... "The first day of your chore calendar. Set the date and leave it alone." Sound ominous doesn't it? Leave it alone! Don't touch the date! Not touching the date is only important if the chores need to stay with the dates. For instance, you've added birthday party chores -- Well! Of Course those chores will no longer be on the right dates anymore if you change the calendar date. Decide on the date, set it, and leave it alone.
I've added handy conditional formatting to the calendar. Saturdays will have a yellow stripe and Sundays will have a green one. You will know at a glance if you little Doers of Chore are going to be working hard on the weekends or maybe you can cut them some slack once in a while.
Add Some Chores
This is the fun part! What can John or Bob do around the house that will teach them what it means to live in a house? You decide that. I've added a few sample chores so you can see what it looks like. You can delete them and add your own chores!
Repeating Chores
Do some of the chores repeat? For instance, does one chore doer always empty the garbage cans on Monday? And then does this same person always sweep the floors on Wednesday? These are the type of chores that you can add first. In Excel, if you select a list of things, then drag it down by its corner, that list will repeat over and over until you stop dragging it or run out of room. This is important- Dragging a repeating list will overwrite everything in the cells that you drag over, and that is why you should enter the repeating lists first. See the image below.
The Files
two formats - XLS and ODS1
1The ODS format opens with OpenOffice Calc. The formatting will not be very pretty on some of the sheets because I am not well versed in OOCalc. OpenOffice is an open source office suite and it is free. OpenOffice.org
[Read-Only] means that the file is being viewed from your temporary folder. Use "Save as" and save the file if you want to use it.
Usage
Copyright 2010 Donna Young, All Rights Reserved
This file may be downloaded only from Donna Young's web site or YoungMinds CD-Rom 2011.1 & newer.
Do not email, upload, or otherwise "send" this file; send your friends to Donna's Website.
This page is at
https://donnayoung.org/household/fullsize/xls-chore-chart-maker.htm
Donna Young, August 13, 2010