Filler Paper for The Half-Sized Household Planner
This page has a few files that serve as filler paper or journals for the half-sized planner that uses paper that measures 5.5"x8.5". While these files create 5.5" x 8.5" filler, the files are printed on full sized printer paper, usually on both sides of the paper, and then cut in half. With a hole puncher, punch the binder holes along the CUT edges.
I have several groups of files for you to choose from and if you do not find what you need on this page, see my other half-sized printable pages at the links below.
Commonly Misspelled Words
This file is neither a journal nor ruled paper, but the contents of this file can be useful to place in the "Journal" section of your household planner.

Commonly Misspelled Words is two pages long.
Printing Instructions for

Commonly Misspelled Words


Print page one.

Reload paper in printer.

Print page two. For a full sized printable of Commonly Misspelled Words, see: Commonly Misspelled Words
Set One- Oldest Set

Set one has close margins. If you find that the sides are being cut off, set page scaling to "Fit to Printable Area." This setting is in Acrobat Reader, however; if you are printing from a browser, then this setting could be called something else such as "Fit to Paper."
July 19, 2013 - I test printed all of the files in the old set today within the Chrome browser. All of the files printed as they should and for the sake of thoroughness in reporting, the setting Fit to Paper was already selected in Chrome's printer setting. Below I will give my rule height results for each file.
Set Two
The files in set two coordinates with the Full Year Calendars. The sample on the images pictured below is a scan of how the paper looks with black ink. The rule height is less than 1/4th of an inch - approximately 7/32" or 5.5mm. Your printed results may vary in both size and in shades of gray.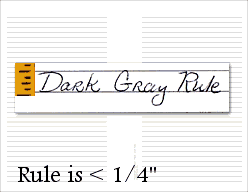 The Dark Rule paper features a solid line.
Ruled on both sides
Ruled on left side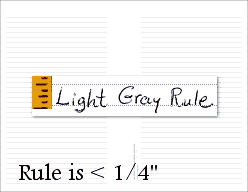 The Light Rule paper features a dotted line.
Ruled on both sides
Ruled on left side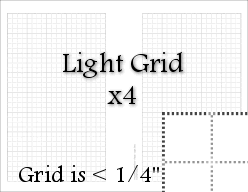 The Light Grid features dotted lines that are darker every 4th group of squares.
Games
Full sized versions of these games may be printed from: Games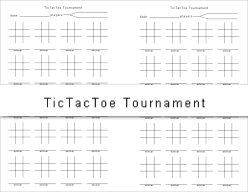 This file has twenty Tick-tack-toe games per page. Print on both sides of a full sheet of printer paper, fold in half, cut along fold.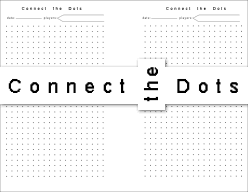 This is the long version of the game. To keep score, the person who completes each box should write their initial inside the box.
Related