Salt Dough that requires Baking
Recipe Submitted by Donna ..|.. Index Kid's Craft Recipes
This is a basic salt dough that can be made into models.. ornaments, beads, pendants, plaques, fake food, and even (with careful measuring) boxes with lids.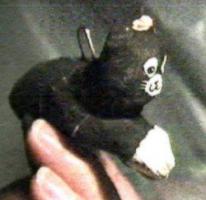 Ingredients
1/3 cup salt
2 1/2 cups all purpose flour
1 to 1 1/2 cups lukewarm water
Directions
Mix the flour and salt together. Slowly add the lukewarm water until you have a soft dough. Knead for 5 minutes until it is smooth. Cover any unused dough in plastic wrap to keep it soft.
Shape your models.
To join pieces use a tiny bit of water as 'glue.' Apply the water sparingly with a paint brush. Use straws or knitting needles to make holes. Paper clips makes nice hanging hooks.
Baking your models.
Dough models should be baked before painting or decorating them. Place them on a cookie sheet in the bottom of the oven at 275 degrees F. After 30 minutes, increase to 325 degrees F until the model is golden brown -- the time will depend on your model. Should air bubbles appear while baking, carefully press them down with a blunt knife and then continue baking.
Cool the models before decorating them. Painted models should receive a coat of white latex paint to give a nice even undercoating for decorating. Craft paints will work fine (they are latex).
!!Important: Store ornaments in sealed plastic bags. Being stored in a humid area unprotected will caused them to become soft and possibly fall apart.