Tzatziki Sauce
Recipe Submitted by Donna ..|.. Index | Sauces
Tzatziki Sauce is a tangy sauce that is usually served on Gyros. Tzatziki Sauce takes several hours of preparation time, most of which is allowing the cucumbers and yogurt to drain. Make the sauce the day before for best flavor.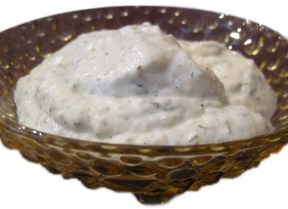 Ingredients
2 small cucumbers, peeled, seeded & diced
1 1/4 cups plain yogurt (after draining)
1 tablespoon olive oil
juice of 1/2 lemon (2 or 3 teaspoons)
4 garlic cloves, minced
1 tablespoon fresh dill, chopped
ground black pepper
salt
Directions
Peel the cucumbers and seed the cucumbers. Finely chop the cucumbers. Place the chopped cucumbers on several layers of paper towels to drain for several hours. Press out excess liquid before the next step, or see what I do below. Combine yogurt, olive oil, lemon juice, garlic, chopped dill, pepper, and drained chopped cucumbers in a food processor. Puree until it is as smooth as you like it. Salt to taste. Pour into a seal-able nonmetallic container and keep in the refrigerator.
Donna's Comments
For 2 to 4 hours, drain both cucumbers and yogurt in a coffee filter that has been placed in a sieve. A double layer of cheese cloth is better to use if you have it. Draining the yogurt reduces its quantity by as much as 50%. If you choose to drain the yogurt and I strongly recommend that you do, drain twice as much yogurt as the recipe states.

Cucumbers: The recipe calls for two small cucumbers, but in reality, I generally only have long cucumbers to choose from at the store. One long cucumber is enough for this recipe. Once seeded, pulverized, and drained, the one long cucumber will yield around 1/4 cup.
Dill & Garlic: If you have to substitute dry dill for fresh, use 1 teaspoon dry dill weed. If you must use garlic powder instead of cloves, use 1/2 teaspoon garlic powder.
Optional Mint: Because I grow it and dry it, I add 1/4 teaspoon dried crushed mint leaves. The recipe is good with or without the mint.