Herbed French Bread
Recipe by Donna ..|..Index | Bread
A recipe for Herbed French Bread, a bread that has an herb flavored moist center and a crusty crust. I must add that this is not a genuine French bread - it is a French bread shaped bread. Serve with Italian dishes or soup
Ingredients
3 1/2 cups bread flour or all purpose flour
2 packages of yeast or 4 teaspoons yeast
2 Tablespoons sugar
1 teaspoon salt
1 cup buttermilk
1/4 cup butter
1/4 cup water
1 teaspoon dried parsley flakes
2 teaspoons dried basil, crushed
1/4 teaspoon salt
1/4 teaspoon garlic powder
2 Tablespoons melted/softened butter
Directions
Combine flour, yeast, sugar, and salt in a large mixing bowl. Stir and set aside.
Heat buttermilk, butter, and water until butter melts, do not boil. Cool to no higher than125 degrees F. Add to flour mixture. Put your dough hook in your electric mixer and knead the dough at the manufacturers recommended speed setting for dough for 10 minutes. Cover and let rise in a warm place for around 45 minutes.
Combine the parsley, basil, 1/4 teaspoon of salt, and the garlic powder with the melted/softened butter, set aside.

After 45 minutes, dump dough out on a well floured surface. Knead the dough a minute or two to reduce enough of the stickiness so that you can flatten it in a rectangle.

Cut the dough into 2 equal sections. roll each section on a lightly floured surface into a 14 x 8 inch rectangle. Spread 1/2 of the butter and herb mixture over one of the rectangles of dough and spread the other half of the butter and herb mixture over the other rectangle of dough.
Starting at the wide end, roll up the rectangle. Pinch the ends and the long edge closed. Lay on a greased cookie sheet or a French bread pan. Repeat with the other rectangle of dough.

Let rise in a warm place for about 20 minutes.

Bake at 400 degrees F for 15 minutes. AND then reduce heat to 350 degrees F and bake for 10-15 more minutes. Brush lightly with butter.
Makes 2 loaves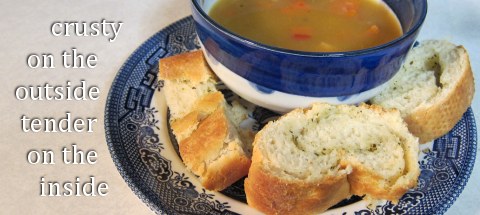 Buttermilk substitute: Combine 1 cup milk and juice of one lemon or 1 tablespoon bottled lemon juice