Lesson Plans and the Divided S-Sheets
V Planner 4.2, High School V Planner V4.2, and Homeschool Lesson Planner V4 are ready for use. Download from the Member's area.

The Divided S-Sheets are sheets 7, 8, 9, and 10. You can tell they are divided because the lesson plan area is split. A giveaway that it is divided is that the top 3 rows on the S-Sheet are expanded and possibly in use.
If you are using a Divided S-Sheets as "Full" or for the "2nd Semester" then you will have to place lesson plans accordingly.
If using a Divided s-sheet for the 2nd semester then that is easy, just skip down to row 156 and start typing or pasting lesson plans.
If using a Divided s-sheet as "full", then that is not as easy. Place the lesson plans that you believe will be done during the second semester of that class into the second semester area beginning at row 156. If this quessitimate turns out to be wrong, then copy and paste plans accordingly.
If using a Divided s-sheet for the 1st semester then that is very easy, just start adding lesson plans at the top.
Divided S-Sheets are set up at Data.
About the V-Planner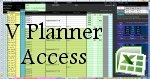 The V Planner is a spreadsheet file in xls and xlsx format. To use the file, you must have Microsoft Excel on your computer. The V Planner is available from YoungMinds web site. YoungMinds is online via a subscription and on Donna Young's Site-CD.