How to Use the Term Averager
V Planner 4.2, High School V Planner V4.2, and Homeschool Lesson Planner V4 are ready for use. Download from the Member's area.

The Term Averager exists only because I thought that someone might need to know the totals for certain school terms. I would have needed to have that information.
For Instance-
I was required to turn in semester grades and attendance. Had I made the V Planner early enough for me to have used it and had I set up MORE school terms than just 2, then I would use the Term Averager to get the totals for the 1st and, later, the 2nd semester.
Images of a Scenario-
Example- I've set up 4 School Terms (Quarterly). I have to report data for 2 school terms (per Semester)
The top image shows the data totals and grade average for School Terms 1 and 2

The Second image shows data totals and grade average for School Terms 3 and 4.

Scenario- - I would take the information shown here and enter it into the form that I had to fill out for my "cover school" (or the outside entity, if one exists, that requires this information). I'd mail the form and my "reporting" work would be finished for the semester.
Sadly, I hadn't made the V Planner in time for me to use it, but I did have an unusable prototype at the time. Instead I used G&A, which is something that I had made for me to lessen my reporting workload; G&A doesn't have a feature like this Averager.
Donna Young
Updated
About the V-Planner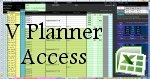 The V Planner is a spreadsheet file in xls and xlsx format. To use the file, you must have Microsoft Excel on your computer. The V Planner is available from YoungMinds web site. YoungMinds is online via a subscription and on Donna Young's Site-CD.