Concepts in Design: Week Three
This Page - Book & Chapter
AOP LifePac Electives
Unit I: Concepts in Design
1. The Design Process
2. Principles of Design and Composition - Week Three
This week included only a small amount of art practice. There were three tests in a row.
Monday
she read about the focal point in design on pages 27-28. I showed her the concept briefly on the white board. Then she did activity 2.2 after more white board work on how to do activity 2.2
Tuesday
Tuesday involved reading about movement and rhythm in design on pages 32-34 and creating a collage from shapes that were provided in the book (activity 2.3). Her third attempt produced a reasonably nice collage.
The teacher's book includes a list of questions to ask yourself when evaluating activity 2.3.
Line and Shape Collage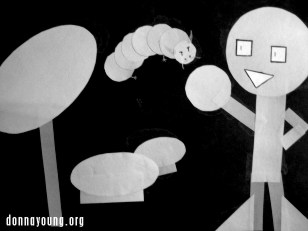 Looking at this 6 years later, I must clue you in.
While this cute collage is not impressive art, it
passed every criteria stated for the activity.
Wednesday
Wednesday only consisted of reading about division of space in design on pages 39-40 and the self test on pages 40-41
Thursday
Thursday officially ended unit one. She took the Unit one test today.
-=-=- -ENDS UNIT I -=-=-
Friday - Unit Two
She started Unit 2. She read pages 1-4 and completed the test on page 5.
NEXT - WEEK 4

The Color Wheel