Principles of Color: Week Six
This Page - Book & Chapter
AOP LifePac Electives
Unit II: Principles of Color
1. The Color Wheel
2. Color Phenomenon
3. The Meaning of Color
This week involved complementary colors and the effects they have on each other. The small image just below is an example. Click on it to see a larger version - it is not easy on the eyes.
Everyday This Week
At the
bottom of this page
are two examples of art that uses complements and split complements .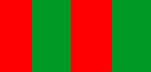 Click for larger image
Holly went through pages 23 through 26. She painted all week as described on pages 25-26. Mixing true complements to the primary colors proved to be a challenge. Make sure that your student has mixed a good complement before beginning to paint. The exercises depend on it! I must say though that mixing the perfect complement might not be possible. I am pretty sure that the colors that we had did not produce perfect complements.
Draw or Use Handouts
The student is instructed to draw on construction paper four more of the designs that are shown on page 26 (similar to the image that is linked above). Even though I have printable files that could be used, my opinion is that drawing is good practice for the art student. If you are pressed for time, you can use the handouts. There are handouts that are similar to the exercises on the web page: Exploring Color Theory.
Handouts shown below are linked below in the images.
Print handouts on paper that can handle paint.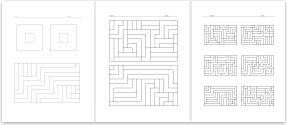 Related: How to use
Comparison Boxes
(first printable)
Complements and Split Complements
Written: Sep 13 2005, revised 8/8/2011, by Donna Young
During Week Six my daughter painted Comparison Boxes to compare what happens to a color when it is next to its complement and when the color is next to its split complement. Later we took a week, which is not included in "The Weeks," and read about an artist each day and looked at their work. Read more here.
Below are two paintings that we looked at during that week. -"Examples of Color Harmonies"
Complementary Example
This painting by Vincent Van Gogh was inspired by Jean-Franois Millet's engraving of peasants.
Noon: Rest From Work 1889-90, Muse d'Orsay, Paris
Primarily painted with blues and oranges.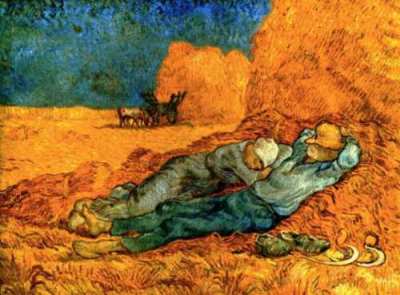 Split Complementary Example
Irises 1890
Painted with blues and yellow-oranges.
NEXT - WEEK 7

Color Phenomenon, continued