Principles of Color: Week Five
This Page - Book & Chapter
AOP LifePac Electives
Unit II: Principles of Color
1. The Color Wheel
2. Color Phenomenon
3. The Meaning of Color
.. This Exercise is Continued from Week 4 .. Pages 10 and 11. Either draw the scale on construction paper as described in activity 1.2, or use a printable that is printed on paper that is heavy enough to handle paint. We used 32 lb. paper.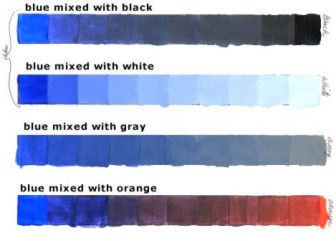 Monday - Tuesday
and more days if needed
Choose a color from the remaining primary and secondary colors and work toward completing activity 1.2.
Activity 1.2: Value Scale in Color
Have the student follow the instructions on page 11 and draw this at least once. Drawing it every time is best, but if there is not enough class time, use the Scale Chart I at Exploring Color Theory.
Wednesday
Go over the color schemes on pages 12-14.
Thursday - Friday
She found examples of the seven colors schemes for Activity 1.3. on pages 15- 22.
==== Ends Week Five ====
====Ends I. The Color Wheel ====

Tint: Color with white added.


Tone: Color with gray or its complement added.


Value: The relative darkness or lightness of a color.


Intensity: The strength of a color, especially the degree to which it lacks its complementary color.
NEXT - WEEK 6

Color Phenomenon, printables