Styrofoam Balls and Buttons Ornament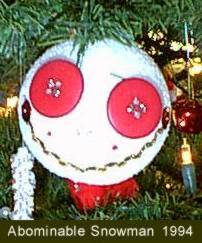 This is a very easy durable tree ornament for children to make. My children were ages 5 and 7 when they made the ornaments pictured on here. These are not gorgeous ornaments, but over the years, they tend to seem prettier or rather, that is how it is with me. This year [2006], when my daughter and I unpacked the ornaments, the styrofoam ornaments were some of the first ones that she looked for. They are special to her too.
There are no step-by-step instructions, basically spread a sheet (or something large like a sheet) over the floor, dump out your miscellaneous sewing do-dads and let the children stick them to a Styrofoam ball. There are more details below.
Materials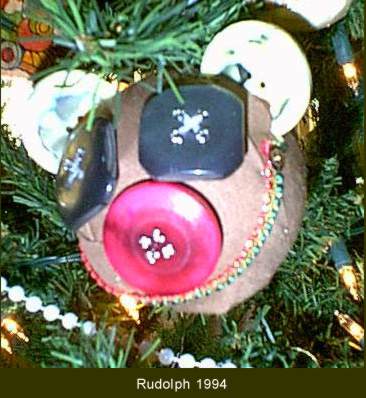 Lots of old buttons.. big ones and small ones
Lots of Straight pins
Scraps of rick-rack, ribbons, trim, lace, etc.
Sequins are optional, but we used some
Small beads are optional, but we used some.
Several 3-inch Styrofoam balls.
Fabric remnants if you want to cover the balls.
Craft wire or paper clips to insert into the top of the ball for hanging hooks.
White Glue is optional, but some things might need glue

=> You can use other craft scraps such as felt, chenille pipe cleaners, glitter, etc..
Directions
Spread everything out on a sheet or a towel and let the children make whatever they want.

The Rudolph ornament uses large buttons and a strip of trim for the mouth. It is covered with brown fabric. The ears are big buttons embedded into the Styrofoam.

Not pictured: An angel could be made by covering a Styrofoam ball with an old handkerchief or white fabric. The halo can be made from a gold glittery pipe-cleaner, use buttons or beads and trim for the facial features.

Note: Buttons with large holes will require several straight pins inserted at strategic angles.
Be sure to write the year and the child's name on the back of the ball.
Other Crafts at DonnaYoung.org
Educational Resources for Younger Children at DY