Home Economics Lifepac 6 Lesson Plans Worksheet
by Donna Young Note: This lesson plans worksheet is based on AOP LifePac Home Ec, published 2003
Look over contents and page numbers to confirm that nothing has changed in newer editions.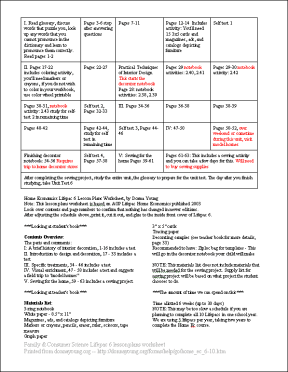 ***Looking at student's book***
Contents Overview:
The parts and comments:
I: A brief history of interior decoration, 1-16 includes a test
II. Introduction to design and decoration, 17 - 33 includes a test
III. Specific treatments, 34 - 46 includes a test
IV. Visual enrichment, 47 - 58 includes a test and suggests a field trip to "model homes"
V. Sewing for the home, 59 - 63 includes a sewing project
***Looking at teacher's book***
Materials list:
3-ring notebook
white paper - 8.5" x 11"
magazines, ads, and catalogs depicting furniture
markers or crayons, pencils, eraser, ruler, scissors, tape measure
graph paper
3" x 5" cards
tracing paper
decorating samples (see teacher book for more details, page 33)
recommended to have: Ziploc bag for templates - This will go in the decorator notebook your child will make.
NOTE: This materials list does not include materials that will be needed for the sewing project. Supply list for sewing project will be based on what project child chooses to do.

***The amount of time we can spend on this***
Time allotted: 6 weeks (up to 30 days)
NOTE: This may be too slow a schedule if you are planning to complete all 10 Lifepacs in one school year. We are using 5 lifepacs per year, taking two years to complete the Home Ec course.
***Choosing a planner***
Use a 5 x 6 grid, thumb through book taking note of activities, questions, tests, field trips, etc. and start filling in page numbers, try not to overload:


Printable version of this to glue inside front cover of workbook
I. Read glossary, discuss words that you are puzzled by, look up any words that you cannot pronounce in the dictionary and learn to pronounce them correctly. Read pages 1-2
3-6 stop after answering questions
7-11

12-14
Includes activity: you'll need 15 3x5 cards and magazines, ads, and catalogs depicting furniture
Self test 1
II. 17-22
includes coloring activity, you'll need markers or crayons, if you do not wish to color in your workbook, use color wheel printable at art.donnayoung.org
22-27
Practical Techniques of Interior Design


This starts the decorator notebook


28: notebook activities: 2.38, 2.39
29 notebook activities: 2.40, 2.41
29-30 notebook activity: 2.42
30-31, notebook activity: 2.43
study for self-test 2 in remaining time
Self test 2, pages 32-33
III. 34-36
36-38
38-39
40-42
42-44, study for self test in remaining time
Self test 3, pages 44-46
IV: 4750
50-52,

over weekend or sometime during this unit, visit model homes

Finishing decorator notebook: 54-56


Requires trip to home decorator stores

Self test 4, pages 57-58
V: Sewing for the home
59-61
61-63: This includes a sewing activity and you can take a few days for this.

Will need to buy sewing supplies

After completing the sewing project, study the entire unit, the glossary to prepare for the unit test. The day after you finish studying, take Unit Test 6