Lesson Plans for Alpha Omega's Elective course Home Economics
For high school home economics we are using Alpha Omega's Elective course Home Economics. For some reason AOP has renamed Home Economics to Family & Consumer Science

. This course is one of the AOP Lifepac Electives Series

.
Like other lifepacs, the course contains 10 workbooks. Last year for 9th grade, my daughter completed unit's 1-5 and for 10th grade, she is completing units 6-10. I broke them up so that she could actually have time to practice what she was learning. I did the same thing with AOP Lifepac Elective Art course.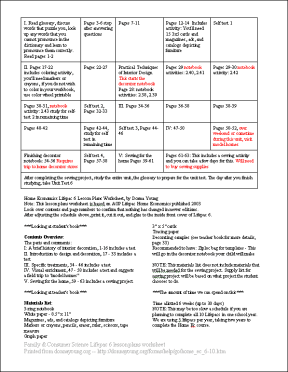 Last year I wrote her day by day schedules directly in her workbooks. This year I did the planning on the computer and I am sharing the schedules with you. Each one is basically a 'think it out' plan with a final schedule. The final schedule is provided in a printable format that can be printed, cut out, and glued into the inside front cover of each workbook. I've discovered that is a good way for a high school student to keep up with her schedules.
Tip: If you want to alter the lesson plans, open them in an html editor and edit to suit your needs.
My planning worksheets for each of the 5 units:
Due to lack of interest, I have only one DOC version.
Home Economics Lifepac 6 Planning Worksheet


Home Economics Lifepac 7 Planning Worksheet
Home Economics Lifepac 8 Planning Worksheet
Home Economics Lifepac 9 Planning Worksheet
Home Economics Lifepac 10 Planning Worksheet

Lifepac Electives Family & Consumer Science Complete Set