Homeschool Planning—The Curriculum Key Legend
This page defines the curriculum key, why and how to use the keys, and provides a printable Curriculum Key Legend for your home school planner.
The curriculum key legend is considered (by me) an essential planner form for the Weekly Homeschool Planner.
A Legend Of Curriculum Keys
The curriculum key legend is a form into which book titles and material descriptions for the current school year are listed. As each item is listed, a unique and easy to remember key is created. See illustrations below.
Illustration of a Curriculum Key Legend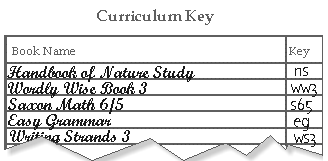 The illustration above shows the names of the books and the assigned key. The illustration below shows how the keys are used when making lesson plans.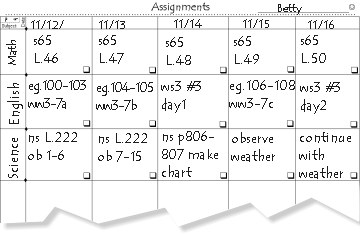 Why Use Curriculum Keys?
The keys are used when you make brief lesson plans; see illustration above. This is handy because you will not have to repeatedly write the names of the books in your lesson plans. Make keys that will be easy to remember so you will not have to always look at your Curriculum Key Legend.
Keys are Not Always Necessary for Every Class
Keys are most useful for classes that use more than one book. If only one book is used for the class, it is optional to use a book key for that class when writing lesson plans.
Curriculum Key Legend and Several Children
I have two comments regarding the Curriculum Key Legend and several children.
If you have several children and they are not sharing books, I suggest that you print a curriculum key for each child, but only if you have a LOT of books to list.
If your children are sharing books, then either list the shared books first or list them last.
Alternatively, ignore both comments (above) and list your books and materials as you wish.
Curriculum Key Legend Printable Files
The PDF Curriculum Key has room for 31 titles.
The DOC file contains a table into which you will—

Type a book title or material description.
Press the Tab key on your keyboard.
Type a key for the book title or material description.
Press the Tab key on your keyboard. This time, pressing the tab key will create a new row in the table.
Repeat the steps above until you are finished.

Curriculum Key
See Also at DonnaYoung.org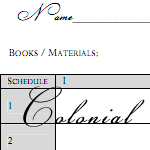 The Colonial Homeschool Planner set includes a Book Key.
Hello Visitor!
I am currently working on this website to add to its ginormousness. Thank you for visiting, and please subscribe yearly to access my many printable files! Donna Young
May 13, 2021