Quick Bean Burritos
Recipe Submitted by Donna ..|.. Index | Meat / Main Dishes
This recipe is a variation of refried beans. The recipe can be used for bean dip if the beans are not drained and the salsa is added to the mixture before cooking.
Ingredients
1 15 ounce can Pinto Beans (or two cups of home-cooked beans)- drained
1 teaspoon cumin powder
1/2 teaspoon chili powder
7 or 8 jalapeno slices
4 ounces of sharp cheddar cheese
Flour tortillas - taco size
Salsa
Sour cream - optional
Directions
Remove tortillas from refrigerator. In a food processor, blend the drained beans, cumin, chili powder, jalapenos, and cheese.
Pour the bean mixture into a microwave oven safe container (1 quart to 1 1/2 quart sized container). Microwave for 6 to 8 minutes on 75% power. Midway, stop the microwave to stir the beans. Remove from microwave. The bean mixture should be thick. Microwave ovens vary, so the time and power listed above is an estimate. This can be prepared on the stove over medium heat and stirring almost constantly.
On each tortilla, place about 3 tablespoons of bean mixture in a wiener shape. Add salsa and sour cream. Roll up and set aside, fill tortillas until bean mixture is used up. Leftovers can be wrapped and refrigerated.
For Bean Dip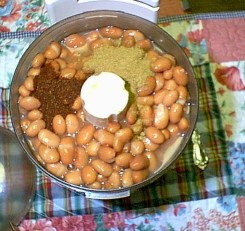 For bean dip, don't drain the beans