Grid Notes
A Grid Note is graph paper with a place for a list. On Donna Young's Grid Notes page you can enter the list before downloading the graph paper. Donna is providing six different graph paper layouts on which a list may be added. Additionally, you will find two full graph papers onto which a comment may be added before printing.
About the Graph Paper

The graph paper that I placed in the grid notes has these qualities.
Squares are grouped by 4's
Gray inner lines
Black outer lines
The 7 x 9 paper is 28 squares wide by 36 squares long. The "list" grids will have a missing section for the list.
The 9 x 12 paper is 36 squares wide by 48 squares long. The "list" grids will have a missing section for the list.
The Grid Notes that have the word Wide in the name have a smaller missing section.
Printing Your Grid Note
The output is an image, so printing these as is might work or it might not work. If you decide to print the image from your browser, select "Fit to Page" if that setting is available. Otherwise, you can elect to print it anyway or download the image and place it in one of word processor documents that I am providing -> DOC | DOCX
Live Samples
Click on the links to see a live output of the images the form will generate.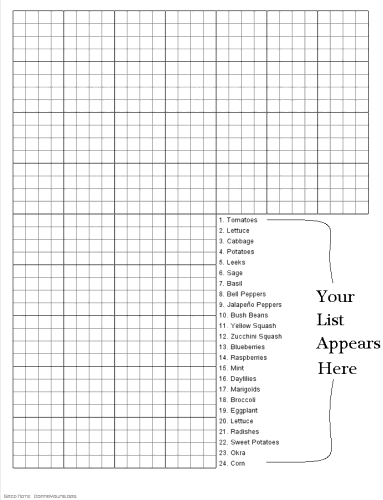 Graph Paper with the List
Instructions-
1. Enter your list. The numbers in the fields may be overwritten or removed entirely.
2. Choose the graph paper layout by clicking on any one of the images.
Clicking on an image will open a new page or tab that contains the graph paper with your list. If you return to this page, you can select another layout with your list and it will load in the same new page or tab. Be sure to save the graph paper image to your computer, or print it from your browser. Read more about printing the graph paper from your browser below.