HWT Handwriting Lessons 25-50
This page contains the HWT style handwriting lessons 25 - 50 that are **more or less coordinated with the book, Teach Your Child to Read in 100 Easy Lessons.
Read more about these lessons at the home page for the lessons. HWT Handwriting Lessons and Teach Your Child to Read in 100 Easy Lessons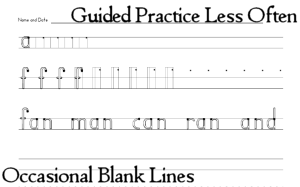 In this group of handwriting lessons, tracing will gradually become less common. The letters that are introduced are ... f, u, h, l, g, k, v, w
So Far: The words that I have added to this group of lessons are ... ant, feet, run, sun, nut, if, fun, mill, eel, lot, fan, man, can, ran, and, cog, fog, dog, log, nog, see, the, run, she, said, no, cow, now, wow, was, seen, is, in rock, sock, my
Starting with Lesson 36, Endings might show up on some lessons. The endings that I have added to this group are: ud, ut, un, id, in, it, ill, an, and, at, ot, og
What the Colors Mean
Light orange means that a letter is introduced for the first time.
Light green means a word is used in the lesson.
Pink indicates the lesson will include an uppercase letter.
The Files

Hello Visitor!
I am currently working on this website to add to its ginormousness. Thank you for visiting, and please subscribe yearly to access my many printable files! Donna Young
May 13, 2021



Next: HWT Handwriting Lessons 51 - 74 and Teach Your Child to Read in 100 Easy Lessons
Printable Handwriting Paper that Coordinates with The HWT Handwriting Lessons
For all choices in HWT handwriting paper please go to: Double Line Printable Paper
Print, cut apart, attach to student's notebooks
See other handwriting strips at: Printable Handwriting Strips
Donna Young,
Project ongoing - 1st files uploaded on August 12, 2014.
**Note: At some point in making these lessons, I began working toward complimenting the past and current reading lessons in the book by adding "endings" and words from the reading lessons to the handwriting practice.
Below - Image of Letters used in Worksheets



For more handwriting practice in this style go to: HWT Handwriting Practice Worksheets.