the Other Courses Worksheet
V Planner 4.2, High School V Planner V4.2, and Homeschool Lesson Planner V4 are ready for use. Download from the Member's area.

The Other Courses worksheet allows you to create a record of courses that are taken outside of the home AND such courses that are not using an S-Sheet. These would be courses for which you make no lesson plans.
Because Other Courses do not use S-Sheets, those classes will not appear on the Lesson Planners. If you want to send an Other Courses schedule to a lesson planner, then please use Calendar for that.
How to Use Other Courses
At Data Worksheet - To use Other Course, the course names must first be entered into the Data worksheet in the aqua blue area. Fill in course names, up to two, credits if they are awarded, book titles. Shortened class names are not necessary for these courses because they do not appear on the planners.
At Other Courses - Complete setup show in the numbered list below
All scores entered at Other Courses are included in the totals at RC1 and Transcripts, even the scores placed under undated terms.
During the school year return to Other Courses to enter grades for each semester, and if using, the HOURS spent for the entire class. Note- The terms that are "in use" will have dates under them- However, - good news- if you place grades in the "undated" semesters, the grades will be counted on both RC1 and the Transcripts.
At Column A - Select the school term length for each course - full year, 1st semester, 2 semester. If the course isn't an entire semester long, select the semester during which the class occurred. (pictured below)


A grade scale may be selected for each of the other courses in Column B. (pictured below)

The quality points may be selected for each of the other courses in Column R. (pictured below)

The data at Other Courses will appear in the Reports that display class information. RC1, Transcripts, COS
Donna Young
Updated
About the V-Planner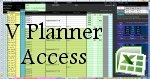 The V Planner is a spreadsheet file in xls and xlsx format. To use the file, you must have Microsoft Excel on your computer. The V Planner is available from YoungMinds web site. YoungMinds is online via a subscription and on Donna Young's Site-CD.