Gyros
Recipe Submitted by Donna ..|.. Index | Meat / Main Dishes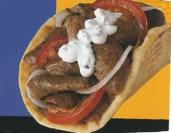 Ingredients
1/2 lb. ground lamb
1/2 lb. ground beef
2 slices semi dried (day old) bread
2 cloves garlic, chopped fine
2 tablespoon fresh parsley, chopped
1 teaspoon salt
1/4 teaspoon pepper
1/4 teaspoon ground fenugreek (substitute: oregano)
1/4 teaspoon ground cumin
1 egg, beaten
1 recipe of Tzatziki Sauce
Directions
1) Mix lamb and beef in a glass bowl or on a flat clean surface.
2) Crumble bread into meat mixture.
3) Add herbs and spices to the mixture and mix well.
4) Stir egg into meat mixture.
5) Form mixture into 4 large thin patties and place on a medium hot grill for 5 minutes per side or until the Gyros is cooked through.
Serve sliced gyros on warm pita bread with fresh sliced tomatoes, onions and Tzatziki sauce.
Donna's Technique: The meat mixture is very sticky. To form the thin patties, do this:
Method One
Lay out a 2-foot long sheet of plastic wrap on the counter.
Add a 4 ounce ball of the meat mixture on the plastic wrap, not in the middle, but to one side.
Fold the other half of the plastic wrap over covering the meat.
Press down on the plastic covered meal ball with your hands and then with a rolling pin to obtain an even 1/4 - 3/8 inch height.
Leave the now flattened patty in the plastic wrap and refrigerate overnight or, if cooking now, peel it off and cook the patties.
Method Two - I like this one better because I can cook an entire slab of gyro meat and then cut it into strips.
With your hands or a rolling pin, flatten one pound of the gyros mixture between two large sheets of plastic wrap.
Try to flatten to an even thickness of 1/4 - 3/8 inch.
Press a crease in the center of the rolled meat so that the plastic-wrapped rolled mixture can be folded and placed in the refrigerator or freezer.