Flourless Peanut Butter Cookies
Recipe Submitted by Donna ..|.. Index | Cookies
This recipe uses no flour, yet the cookies bake as nicely as if flour were present. They are a bit sweet but the kids love them.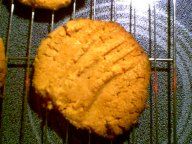 Ingredients
1 cup of sugar
1 large egg
1 cup of peanut butter
Directions
Heat your oven to 350 degrees F.
In a small mixing bowl blend the sugar and egg. Add the peanut butter and stir until somewhat thickened - about one minute or two. Butter a cookie sheet. Using two spoons, dip some dough with one spoon and scrap it off onto the cookie sheet with the other spoon. Use teaspoons for small cookies or use tablespoons for big cookies. Flatten each ball of dough with a fork. Bake about 12 to 17 minutes, checking often after 10 minutes.
More Gluten Free Recipes