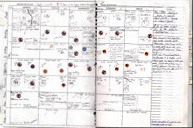 The Homeschool Planner Index
The Homeschool Planner section offers printable planners as well as suggestions about how to use them. The entire section is about planning and organizing the different parts of home schooling.
Printable File Types: PDF is the most common file type that I use. Some of the other file formats that you might find at DonnaYoung.org are DOC and XLS.
This page updated by Donna Young on October 20, 2011.
Legend

Spreadsheet files, usually XLS

Document files, usually DOC
Not shown on this page is the default file type PDF.
Donna Young's Homeschool Planner and Planning Tips

Donna Young's Homeschool V Planner Home page of V Planner

The Printable Files

Homeschool Planner List Forms To list the items related to home schooling

Administrative Homeschool Planner Forms Record Keeping & Planning

Homeschool Time Forms
Homeschool Course of Study Forms
Grade Recording Forms

XLS 10-Subject Grader
A Keyed XLS Grade Book
Donna Young's Grade Calculator - Remade in 2014

Transcripts- a 12 year transcript, see High School for a High School Transcript
Kindergarten Diplomas
MS Excel Grades and Attendance - XLS, XLSX files

All Files - DY's Grades and Attendance a table showing all of the G&A files
DY's Grades and Attendance II - supports up to 40 classes within 10 categories
File - G&A Whole Number- 80, 99, 100
File - G&A Points- .8, 80%, .99, 99%, 1, 100%
File - G&A Points - Version 2
File - G&A 48 - whole number
Compare DY's G&A Files- a table showing each one's features

Homeschool Lesson Plan Forms The forms for planning lessons

Browse by Lesson Planner Groups/Types/Styles

Homeschool Lesson Planners by Columns

Homeschool Lesson Planners with Rows - Surrounded by a Calendar
Homeschool Unit Study Planner
Excel Weekly Planner

High School Course Checklist
Homeschooling: High School GPA
Homeschool High School Diploma Forms
High School Transcript
High School Forms

Homeschool Planner Sets Planners that Match

Examples

How to Use The Planners

Notebooks

Notebooking Forms
Cover Sheets
Journals

Homeschool Planning Help

Homeschool Planning Page for Beginners

Scheduling Homeschool - For grades 1-5

Homeschooling Help