Main Dish Dinner Salad
Recipe by Donna ..|.. Index | Soup / Salad / Side
This version of dinner salad is the main course. It includes the meat and the vegetables. If I serve this with steak, I usually call it a steak salad. The tomato used in the recipe stands in as the salad dressing and so it needs to be a good tasting juicy tomato. If tomatoes are out of season, then use your favorite salad dressing, or use that anyway if you don't like tomatoes.
A meat such as steak, chicken, or pork that is cut into bite sized strips.
Romaine lettuce rinsed, drained and broken into pieces
1 high quality ripe tomato - chopped FINELY or pureed - the tomato is the salad dressing
Sharp cheddar cheese, thinly sliced (slice with a carrot peeler)
Add your favorite salad vegetables/items
bell pepper, mushrooms, carrots, peas, almonds, boiled egg slices, onions, celery, etc.
Cook and season the meat in any way that you like.
Assemble the salad ingredients and mix them. To each plate, add salad and meat.
Romaine Lettuce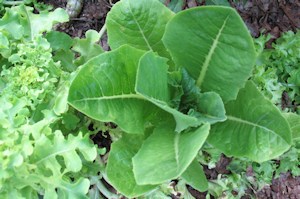 This is a photograph of lettuce that I grew in my garden in 2011. This particular view shows a romaine lettuce plant next to another lettuce plant called salad bowl. A garden spot for lettuce does not have to be large. This photgraph does not show the whole lettuce bed, but it was around 3 feet square and it produced a decent amount of lettuce.