Tuna Plate
Recipe Submitted by Donna ..|.. Index | Meat / Main Dishes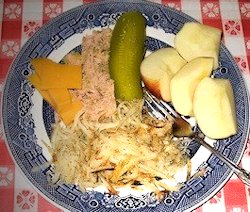 The Tuna Plate is a cold dish, although it is okay if you add something hot to the plate even though I tell you not to at Menu Frameworks. The tuna plate picured here has hash browned potatoes instead of crackers. This plate has no carrots, so I must have been out of them.
Ingredients
Tuna fish - around 2 oz. per person
Cheddar Cheese - cut into strips or squares
Carrots - washed and cut into strips
Crackers -any kind or substitute a different carb
Apple - washed and sliced or substitute with a different fruit or a fruit salad
Dill pickle
Directions
Arrange the food items on a plate for each person.
---
My official description of a Tuna Plate
The Tuna Plate, a Cold Meal
This is what I call the "Tuna Plate". The tuna plate consists of the following items placed on a plate.
a serving of cheese (usually cheddar),
a serving of fruit (usually apple),
a serving of raw vegetable (usually carrot),
a serving of already prepared meat (usually tuna),
a bread item (usually crackers)
Other things to add could be nuts and raisins

see - Menu Frameworks