13-Month Calendar Generator
A 13-month calendar was requested, one that would allow the starting month to be chosen. I asked my son if he could program a calendar generator and he did.
The Header
You may type up to 28 characters and spaces into each line of the header. The header allows up to 5 lines. When entering text for the calendar header, you may skip lines. If you do not want a printed header, leave the header fields blank. Choose the starting month and the starting year, then press the Generate Calendar button. The generator will produce an image of the calendar. See below for printing instructions.
Printing the 13-Month Calendar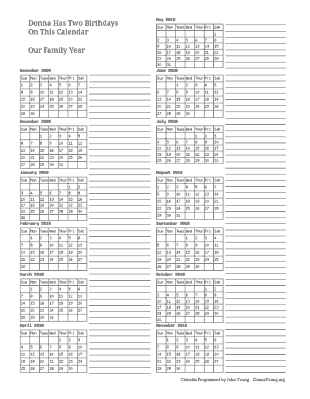 Printing - Adjusting Borders
The file will print based on the settings that you choose in Print Preview. Shrinking the image to fit on a piece of paper is described above. Other settings, which are optional, are adjusting the borders and choosing whether or not anything is printed in the header and footer. The controls for those items are under Page Setup in Firefox and in Internet Explorer, under the gear image.
[My border settings are: top and bottom 0.5, and the sides 0.7.]
Print Preview
Before printing, open Print Preview from the file menu on your browser. Adjust the scale so that the calendar fits on one page. The easiest way to do that is to choose "Shrink to Fit" from the drop-down list. I've included an image below of this for two browsers, Internet Explorer and Firefox.

See Also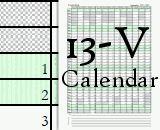 13-V (vertical months) has 13 months.
The starting months are: May, June, July, August, & September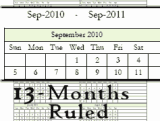 13-Month Ruled Calendar has 13 months. The starting months are: January, May, June, July, August, & September