Year-Round Schooling Changes
How to Change the Formulas to a 6-month 1st semester and a 6-month 2nd semester
Go to the Print Tab


The attendance counter on the Print sheet is coded to a standard 5-month first semester and a 5-month second semester. The code is linked to the Attendance sheet. If you school year-round, then this will not work for you and you will need to change the formula.
Changing the formula is easy because I am providing the code. All you have to do is copy and paste the code into the proper cell. Below are images of the two places where the formula has to be changed.
First Change the formula in the cell under the words, Sem 1. This is cell D25.
Click on cell D25 and copy this: =SUM(Attendance!C4:C9)
Paste the formula into the box next to fx OVERWRITING the old forumla.
Press enter
The image shows the original formula.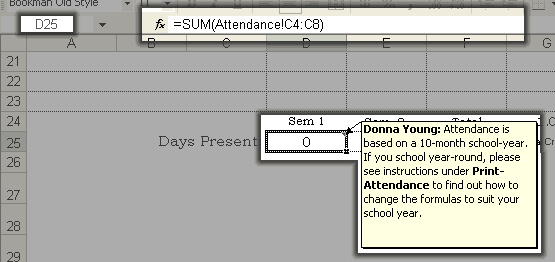 Now click on cell E25
Copy and Paste this into the box: =IF(SUM(Attendance!C10:C15)=0,"",SUM(Attendance!C10:C15))
Press enter.
The image shows the original formula.


Related: Year-Round Schooling Changes - Change number of months in school year.
Help Pages
Set Up: Quick Start Guide - Information Tab | Subject Tabs - Adjusting the Grade Weight | Subject Tabs - Credits | Set up Your Grade Scale | Enter Attendance - Calendar Tab | How to Change the Date on the G&A Calendar |
FAQs: FAQs - Frequently Asked Questions | I can't see the Tabs: Minimized vs Maximized | Print Preview and Printing | Timing and Placing the Scores | How to Unprotect and Protect a Sheet | Not Using the Grade Weight | Year-Round Schooling Changes - Change number of months in school year. | Year-Round Schooling Changes - Changing the Semester in Print