Enter Attendance - Calendar Tab
This is the page where you will enter attendance records.

The calendar sheet is password protected. You cannot unlock this sheet and I will not give out the password.
Points to remember:
Enter p, s, v, or o

Type p, s, v, or o only in the spaces under the date.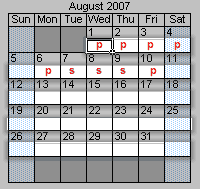 You can not change anything on this page. On some versions, typing might be allowed in the side panel.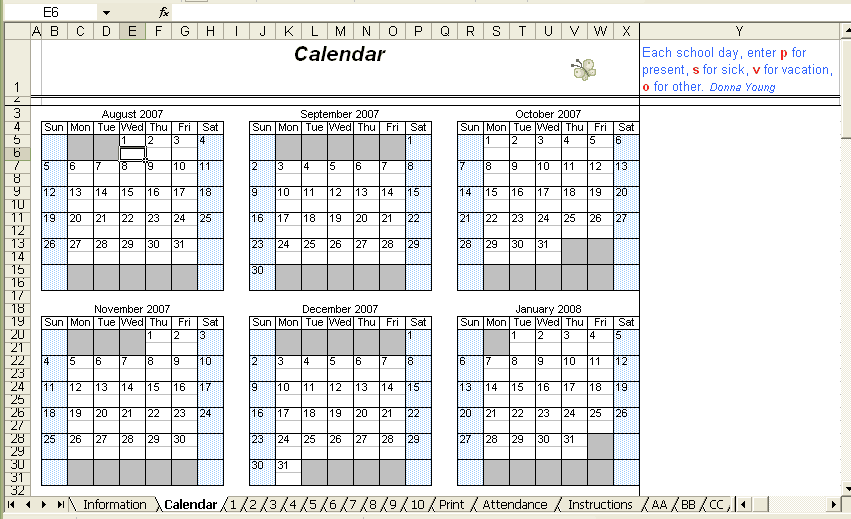 Password:
Can I have the password for the calendar?
No, if I have password protected a sheet in a workbook, then I did it for a good reason. I will not give out passwords.
Help Pages
Set Up: Quick Start Guide - Information Tab | Subject Tabs - Adjusting the Grade Weight | Subject Tabs - Credits | Set up Your Grade Scale | Enter Attendance - Calendar Tab | How to Change the Date on the G&A Calendar |
FAQs: FAQs - Frequently Asked Questions | I can't see the Tabs: Minimized vs Maximized | Print Preview and Printing | Timing and Placing the Scores | How to Unprotect and Protect a Sheet | Not Using the Grade Weight | Year-Round Schooling Changes - Change number of months in school year. | Year-Round Schooling Changes - Changing the Semester in Print