G&A 2 Points Version 2
G stands for Grades. A stands for Attendance. 2 tells you this is a 2-weighted grader. Version 2 indicates that this file is different enough from version one to go up a version number.
This grader is just like the weighted version called Points except for two things ...
File Updated September 19, 2010 to fix a QP bug.
Two other changes were made, both related to convenience.
If you downloaded the version before 9/19/10 and have been using it, you can fix the QP bug by following the instructions on this text file. image
What is Different in Version 2
On each subject sheet
You can choose from 2 Grade Scales. This allows you to assign a different grade scale to a class with educational content that requires or justifies a different scale.
You can choose from 3 QP scales. This allows you to award AP and Honor quality points.
Image Showing Where to Choose Scales on Subject Sheet

The default settings are Scale 1 and GPA. Those settings should work for most classes. The alternate settings are for exceptions such as AP and Honors classes and/or for classes that use a different grading scale.
The Scale Sheet
Click on the image to see a full sized version of the scale sheet.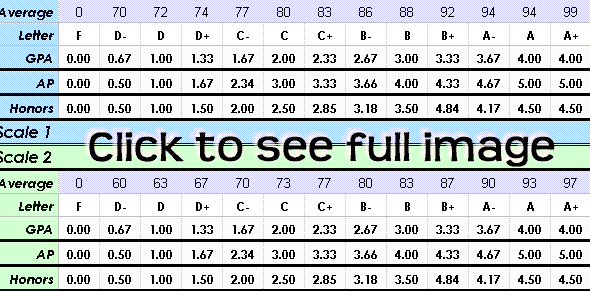 The Number next to Year
In this file after September 19, 2010 update- There is a number next to the Year. It is circled in the image below. This is a drop-down list and should equal how many months that you think the school year will last. The number affects the end month/year date. In the image below that is May 2011. Change the 9 to a 10 and it will be 10 months after the starting month/year.

Later The Subject Rows "Could" Have Color
In this file after September 19, 2010 update- If your student is taking an honors class or an AP class and if you need to record the class as such, then you may on each of the subject sheets. What happens next on the Information sheet is that the subjects that are either honors or ap will have a different background color.


Just Like Points Version 1
G&A Points requires that you enter grades as:
Fractions
Decimals
Percentages
See This Help File Subject Tabs - Adding Grades in to the Points Version
Note: With the weighted version, you have the option of not weighing grades in all subjects.
Help: What is Weighing Grades?
Download G&A Points Version 2
File Format: XLS
This format will either open directly in your browser or it will cause your spreadsheet program to open the file.
1. Right-click the link and from the menu choose to save it.
IE and Opera Save Target As, Firefox: Save Link As.
YoungMinds
The File - there is only one like this right now
Donna Young, September 1, 2010
File updated September 19, 2010
Help Pages
Set Up: Quick Start Guide - Information Tab | Subject Tabs - Adjusting the Grade Weight | Subject Tabs - Credits | Set up Your Grade Scale | Enter Attendance - Calendar Tab | How to Change the Date on the G&A Calendar |
FAQs: FAQs - Frequently Asked Questions | I can't see the Tabs: Minimized vs Maximized | Print Preview and Printing | Timing and Placing the Scores | How to Unprotect and Protect a Sheet | Not Using the Grade Weight | Year-Round Schooling Changes - Change number of months in school year. | Year-Round Schooling Changes - Changing the Semester in Print
Hello Visitor!
I am currently working on this website to add to its ginormousness. Thank you for visiting, and please subscribe yearly to access my many printable files! Donna Young
May 13, 2021